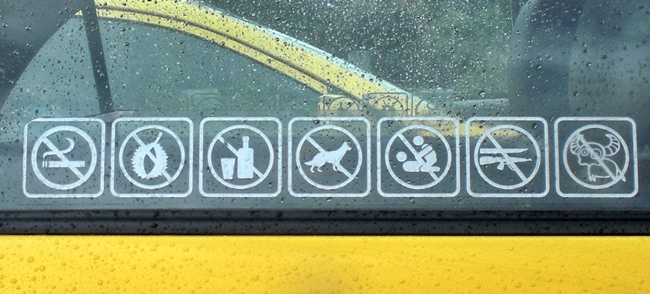 Things you're not allowed to do or take with you in a taxi in Thailand
I took this photo on my way to a local Bangkok mall last week. It's a set of stickers that are quite commonly seen affixed to the windows of taxis in Thailand, and which tell would-be passengers what they can and cannot do in them. Surprising to many who aren't Thai, and probably to some who are, these are the things you're not allowed to do in a taxi in Thailand or allowed to bring with you — and yes, I laughed out loud at a couple.
1. No Smoking – self-explanatory and a reasonable rule. I don't smoke and don't want to get into a taxi that's had a passenger that does. It would reek, and the poor driver would feel like he was driving a mobile opium den.
2. No Durian – Taxis, hotels and public buildings all over Thailand have 'No Durian' signs as durian, the fruit, smells like a mix between vomit and rotten eggs. So, no, Durian is not allowed in a taxi. Here here.
3. No Alcohol – Drunks that are still drinking are not allowed. Thank you.
4. No Dogs – While I'm a huge dog lover, I can see why a taxi driver wouldn't want a dog in his taxi. They can smell, they're not always well-behaved and, yes, they can bite. Although a dog could be useful when that next Thai cop waves down the taxi driver and asks for a bribe. Just sayin'.
5. No Sex or Murder? – The fifth sticker could be 'No having sex in the missionary position in the back of my taxi' or 'murder someone somewhere else'. I'm not quite sure?
6. No Knives or Guns, Wooden Legs? – I think number 6 is supposed to be ' no knives or guns', but it always looks like a pair of wooden legs to me.
7. No Buffalo – Not buffalo literally. Thais call stupid people "buffaloes", or in Thai "kwai", so I think we can guess what this taxi driver thinks of passengers who are idiots.
By the way, if you haven't taken a taxi in Thailand yet, no worries — this will help you get a taxi at Suvarnabhumi Airport and to make your life easier once you're in Bangkok, how to take a taxi in Thailand is useful.