One of my guilty pleasures is to eat lunch at Thompson, a restaurant on the grounds of the Jim Thompson House museum in Bangkok, Thailand. I say 'guilty pleasures' simply because Thompson is so lovely, I sometimes feel I should be at home doing work, instead of relaxing in beautiful restaurant, being pampered by attentive staff and surrounded by the high-society matrons of Bangkok.
But, it hasn't stopped me eating there. After all, Thompson not only serves delicious food but, for the price, it's a real bargain too.
Why Is The Restaurant Called 'Thompson'? – Thompson is so named after the late owner of the Jim Thompson House museum – the American business man and ex-CIA agent, who is credited with almost single-handedly reviving the Thai silk industry before he mysteriously disappeared while on a walk in the Cameron Highlands in Malaysia in 1967.
His traditional Thai wooden houses have, in recent years, been opened as a museum to showcase the buildings, Jim Thompson's furniture and his extensive collection of Thai and Asian antiques. The museum is one of the top five tourist attractions in Bangkok.
Where Is Thompson? – Thompson is on the grounds of the Jim Thompson House museum, which is at Kasemsan Soi 2, Rama I Road, just opposite the large MBK mall in downtown Bangkok and a five minute walk from National Stadium sky train station. The museum is at the bottom of the soi, on the left hand side, and extremely easy to find.
The Atmosphere at Thompson – I love eating at Thompson as the atmosphere is so elegant. You have a choice of sitting either inside in the large bright Thai-style cafe, or outside on a small patio overlooking the Jim Thompson House itself and a small pond. Surrounded by greenery and lovely and quiet, particularly to say that it's so close to Bangkok's main shopping area, you feel like you're out in the country and not right in the middle of one of Asia's largest cities.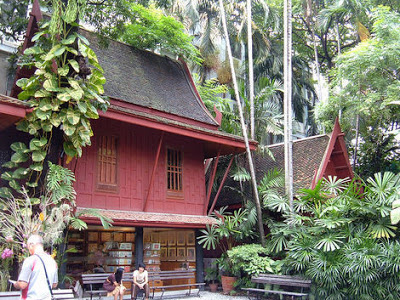 The Food at Thompson – The nice thing about Thompson is they serve both Thai and Western-style dishes, great if you're with a group of people, some of whom aren't big Thai food fans. Much of the food is light,but tasty and some of the Western dishes have a nice spin on the original version.
From the Thai menu, try the beef curry, pad thai (which comes in a the traditional omelette shell) or the crab cakes with mango sauce. Both are authentic Thai but the curry is slightly less spicy than it would be at other Thai restaurants, simply because many of the guests at Thompson are not Thai, so not used to the intense flavor. The Western menu consists of sandwiches, salads and pasta – just your basic fare but nice enough.
Don't miss the desserts too. Thompson has a nice selection of traditional Thai desserts, with such delights as coconut ice cream with jackfruit, and mango and sticky rice.
Prices at Thompson are higher than at comparable restaurants in Bangkok, but still reasonable. Two people should be able to get away with lunch, including Thai iced tea or coffee, for around $18-20. Expensive by Thai standards, but not by Western.
After lunch at Thompson, don't miss touring the Jim Thompson House museum. It is reasonably priced at around $3.50 per person and that comes with a personal guide who tells all about the history of the house, the antiques and Jim Thompson himself.
In my opinion, it is one of the best tours in Bangkok and a beautiful place to see.