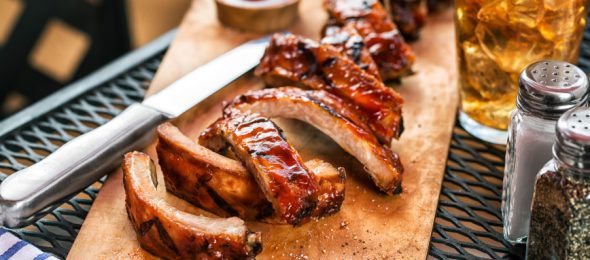 Recently, I took a friend for lunch to Tony Roma's in Bangkok. It was her last day in Thailand as, after years of living here, she was moving back to England. We decided on Tony Roma's as we both were missing Western food, having eaten Thai food almost every meal for several weeks. There are several Tony Roma's restaurants in Bangkok, but we chose the one at Siam Paragon Mall as it is near the sky train, so it's easy to get to.
The Siam Paragon restaurant is on the ground floor of the mall, located where all the other restaurants are. The location isn't that great as it's in a quiet part of the mall, away from the crowds, so it's difficult to do any people watching (half the fun of being in a Thai shopping mall).
I had also never eaten there before but heard the food was good, so we thought we would give it a try.
When we arrived, around 1pm on a Wednesday, the restaurant was only about half full. That is unusual in Bangkok where, at this time of day, most restaurants are packed full of people eating lunch with friends and family. Still, we requested a table for two and were shown to a nice booth.
The booth unfortunately was next to a wall, so there was no view out of the window facing outside. Because of the location, there was nothing to see through the window facing the interior of the mall either. The booth was comfortable though and the wait staff, although not very fluent in English, was friendly and helpful.
The menus arrived and I was surprised to see the selection was quite limited – steaks, ribs, sandwiches and salads – pretty much it. However, I figured the meat had to be good as that's what they are famous for, so I ordered a Sirloin Cheddar Grille sandwich. My friend ordered a Grilled Chicken Sandwich. Then we ordered two beers.
The beers arrived promptly along with complimentary soft bread sticks and herb butter. The sandwiches then both arrived at the same time (unusual for Thailand where one entrée usually arrives 15 minutes before the one for your friend). The presentation was lovely, the sandwiches and French fries looked delicious and everything was piping hot, which I love.
When I bit into my Sirloin Cheddar Grille sandwich, I knew immediately it was going to be a disappointment. The bread was nice, soft and baked perfectly, but the cheese was tasteless and the sirloin was hard and stringy. My friend enjoyed her fries, but said her Grilled Chicken Sandwich was dry and tasteless too.
I enjoyed the lunch because of the person I was with but, overall, I would have to say Tony Roma's was disappointing.
The food was average, the location of the restaurant was boring and, when the bill arrived, we realized it was not good value for money.
For two sandwiches and two beers, the total bill for lunch (including tax and tip) was almost 1,300 baht (or $44.75). Now, in a country where the average monthly salary is 6,000 baht ($200), to spend 1,300 baht on a couple of sandwiches and beers, for me, the meal would have to be amazing. This meal was below average; in fact it was quite bland.
That is why I am not likely to eat at Tony Roma's again as, price-wise, food is much better at other comparable restaurants.
I can also get 2 sandwiches, fries and 2 beers at many other restaurants for less than 300 baht ($10), so it is not likely I would spend that much money at Tony Roma's again.
Besides, there are hundreds of western-style restaurant chains in Bangkok, many of them serving better food than Tony Roma's, so there are much better options than this.
For me, places like Outback Steakhouse or Chokchai Steakhouse are much better choices, and far better value for money.