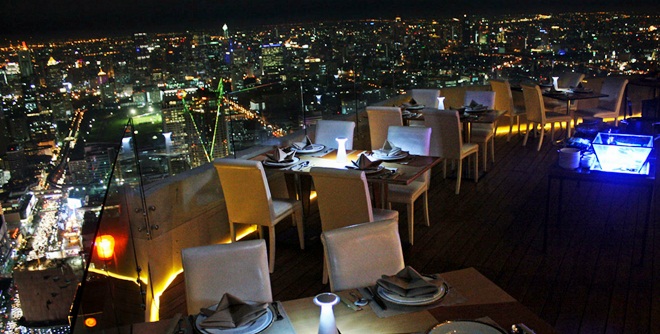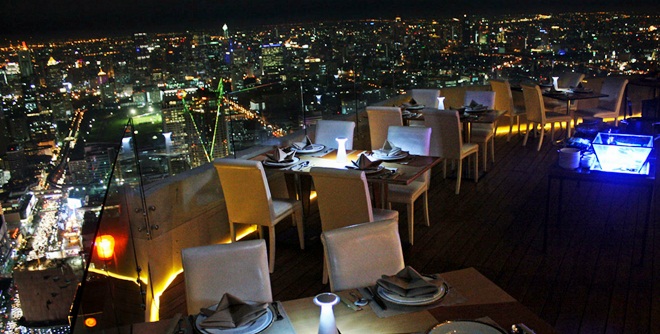 There are rooftop bars in Bangkok in just about every area of the city
Bangkok, Thailand is known for its rooftop bars. In fact, with so many rooftop bars to choose from, it can get a bit difficult deciding where to go as well as which are the top rooftop bars in Bangkok. After all, if you're going to spend your evening high in the air, you want to make sure you get the most spectacular view, the best drinks and, in many cases, amazingly delicious food.
That's why you should check out these top three rooftop bars in Bangkok, before you go anywhere else. You won't be disappointed.
The Rooftop Bar at Baiyoke Sky Hotel
Of course, you must start off your search for the top three rooftop bars in Bangkok with a visit to The Rooftop Bar at the Baiyoke Sky Hotel. Not only is it the highest rooftop bar in Bangkok, it's also one of the most spectacular.
The bar is located on the 83rd floor of the Baiyoke Tower, Thailand's tallest building, so has the most amazing views both day and night. The best way to enjoy it, though, is to buy a drink in the Rooftop Bar and then head up one more floor to the observation deck. It revolves, so you'll get to see the entire city of Bangkok spread out below you — just by standing still.
You'll find the Baiyoke Sky Hotel in the Pratunam district of downtown Bangkok. Easiest way to get to it is via taxi from the Chidlom BTS sky train station.
Zense
My favorite rooftop bar in Bangkok is a place called Zense, particularly in winter when one of Bangkok's beer gardens magically appears up there, along with an excellent restaurant and live bands.
During the rest of the year, you'll find all kinds of other special events at Zense, as well as the normal rooftop bar that's open every day all year round. What's weird too is, even though it's incredibly easy to get to and on top of the city's largest upscale shopping mall, it's not usually as crowded as other rooftop bars, which means plenty of chairs, tables and, yes, bean bags.
When you first arrive to the restaurant area, which is beautiful and designed like a converted factory, don't think you've arrived at the rooftop bar, however. You'll need to go up a few more steps from here to arrive at the outdoor balcony and rooftop and, yes, it's huge.
You do have the choice, however, of eating inside or out at the Zense restaurant, which serves incredible food and with a choice of Thai, Japanese, Mediterranean, and Indian fare. Or, if you'd just like to enjoy a drink and some live entertainment, you can head outside, grab a small table or a couple of bean bags and settle yourself in. The view is fabulous and the atmosphere electric. I go a few times a year as it's one of my favorite places in the city and prices are quite reasonable.
You can get to Zense from the Chidlom BTS sky train station. Just walk on the sky bridge to Central World Plaza shopping mall and ask at the information desk for directions, as it can be a bit confusing as the place is huge. 
L'Appart
If you want something truly unique, you must not miss L'Appart. Styled like an old-fashioned Parisian apartment, you actually get to eat in the library, the living room, the kitchen or the rooftop terrace, and all are absolutely spectacular. Plus, if you love French cuisine, L'Appart is the best place in Bangkok for it.
You can choose to eat dinner at L'Appart (highly recommended, as the food is spectacular and for the quality and taste actually not too expensive), or you can simply enjoy a drink or two at the roof terrace bar. They even have a happy hour from 5pm until 7pm, when you can enjoy two-for-one-drinks and, of course, enjoy the incredible view overlooking Lumphini Park.
L'Appart is on the 32nd floor of the Sofitel Sukhumvit Hotel, just a few minutes walk from Asok BTS sky train station.