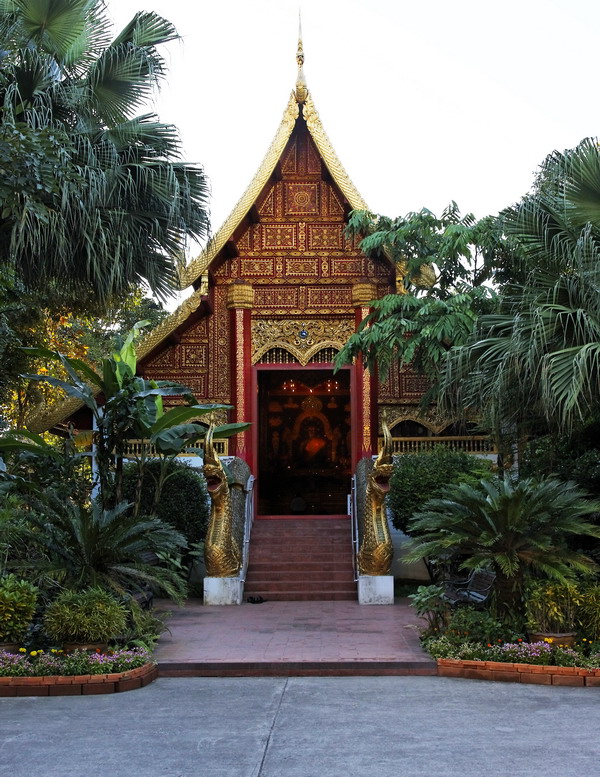 Chiang Rai in northern Thailand is a small town but is surprisingly popular with tourists, both Thai and western. Most tours of Thailand include a few days in Chiang Rai,  because it's a pretty town surrounded by countryside and mountains, and there are many fun and interesting things to do and see there.  Out of all the things to see and do in and around Chiang Rai though, there are five top things you really shouldn't miss.
Visit Wat Phra Kaew – When you're in Thailand, you must visit Thai temples. They're incredibly beautiful, they're everywhere, and are the most elaborate images of Thai culture. Wat Phra Kaew, the best temple to visit, is a temple in Chiang Rai that has the same name as the famous temple in Bangkok (next to the Grand Palace). The one in Chiang Rai is just about as famous as it's the temple where the famous Emerald Buddha (now housed in Wat Phra Kaew in Bangkok) was first discovered.
The story of the Emerald Buddha is famous throughout Thailand as, a few hundred years ago, it was hidden inside a chedi and covered in stucco to hide it from the Burmese. People forgot the Emerald Buddha existed until the chedi was hit by a bolt of lighting that cracked the chedi open and the statue could be seen inside. It's thought to have been made over 2,000 years ago and is actually made of jade, not emerald.
A visit to Wat Phra Kaew is on my top five best places to go in Chiang Rai as the temple itself is lovely, the grounds are beautiful, and there's a very interesting museum which, among other things, tells the history of the Emerald Buddha. Visiting Wat Phra Kaew in Chiang Rai easily falls onto my top five best things to see list.
Visit the House of Opium – The House of Opium is at the Golden Triangle, about an hour from Chiang Rai, and as the name suggests is a museum dedicated to the opium trade in the Golden Triangle (the Golden Triangle being Thailand, Burma and Laos). In this area of the world, the opium trade was a huge operation for hundreds of years. Most of the people living in the area smoked opium, it was traded or sold quite easily, and much of the revenue for the area came from it.A Thai friend, who is from this area, even told me stories of his grandfather smoking opium every day, along with many of his old friends in the village.
The House of Opium is fascinating as it has an enormous collection of old opium pipes, weights and scales, and other drug paraphernalia. The museum also has a great collection of religious items, miniature carved jade animals, ornate boxes, necklaces and much more. It's a 3-storey museum that also has a large gift shop that sells some extremely cool stuff – reproduction opium scales and pipes, posters, t shirts, books, etc. Entrance fee is only around 50 baht (about $1,25) but well worth it.
Visit Mae Sot and Cross the Border into Burma (Myanmar)  – Just an hour and a half drive from Chiang Rai, Mae Sot is a small town that shares a border with Myanmar (what used to be known as Burma). Mae Sot itself isn't anything spectacular, but it's fascinating to visit as you get to see a chunk of what it's like living in a border town. Standing on the border of Thailand and Myanmar, you'll see streams of people constantly traveling backwards and forwards between the two countries – most of them poor and most of them pulling carts piled with goods to sell or trade.
Snotty nosed little kids will appear in huge packs begging for money and, once you cross over into Myanmar and see the small town on that side of the border, you'll see how poor Myanmar really is. I've travelled all over the world, yet I've never seen anything like the town on the Myanmar side of the border. It's definitely an education and one no-one should miss. Makes you realize how lucky you are.
Visit Mae Fah Luang Art & Cultural Park – The Mae Fah Luang Art and Cultural Park is a new addition to Chiang Rai. It's built on beautiful grounds with several lakes, gorgeous flowers and a big pavilion that showcases a collection of royal items collected by Princess Sirindhorn. Buddha statues, religious relics, golden fans, and hand-made cloth, all truly perfect specimens and lovely to see. It's nice to relax by walking around the gardens, talking photographs or visiting the gift shop, which sells interesting Thai handicrafts with the proceeds going to a royal charity, Mae Fah Luang, to help various Thai charities.
Shop at Chiang Rai's Night Market – Although much smaller than Chiang Mai's famous night market, the Chiang Rai night market is actually more interesting. Unlike Chiang Mai's market, that's full of mass-produced items made specifically for tourists, a lot of what you can buy at the night market in Chiang Rai are unique items made by hilltribe people. I bought several antique bags, a mask, some hilltribe silver earrings, a handmade traditional Thai doll, a carved wooden bowl and an embroidered bag. The hilltribes of Thailand produce beautiful products, all unique and all lovely quality. The best places to buy these products are from the stalls the hilltribe people set up by just placing a blanket on the street and selling from there. Prices are cheap too!
The night market also has good Thai food, but cooked a little less spicy to cater to tourists' taste and there's even live music and dancing girls to keep you entertained while you eat. After dinner, you can finish up by walking across the street to get ice cream before going back to your hotel for the night. Chiang Rai's night market really is a must see place.