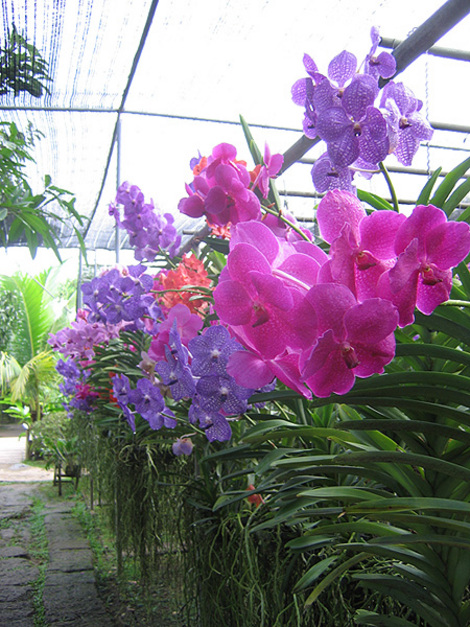 Chiang Mai is one of the most popular cities in Thailand for Thais and tourists alike. Chiang Mai is in northern Thailand, around 700 kilometers from Bangkok and is popular for long weekends, long holidays, hiking, trekking, elephant riding,  and more. There is so much to do in the Chiang Mai area, that sometimes it's difficult to narrow it down. But, these five are must see or do things.
Visit Doi Suthep – One of the most popular things to do in Chiang Mai is to visit Wat Prathat Doi Suthep. Wat Prathat Doi Suthep is a temple high up on Suthep Mountain and is the place where everyone visits at least once when they go to Chiang Mai. To get to Doi Suthep you can take a tour bus, hire a taxi or go in a songtaew (the red pick up trucks that pick up passengers all over Chiang Mai). From downtown Chiang Mai, it takes around 30 to 45 minutes, depending on how bad the traffic is and which day you go.
Doi Suthep is a beautiful temple with a golden chedi, bells you can ring to send your prayers to heaven and, on a clear day, the most beautiful view out over Chiang Mai. When you get to Doi Suthep and walk past all the hawkers, you have two choices to get up to the actual temple. Walk up the steps, of which there are more than 300, or take the easy way up by riding the funicular – an old-fashioned rail carriage that chugs up the hill to the temple.
Umbrella Factory and Silk Factories – Chiang Mai is famous for its Thai handicrafts, especially handmade paper umbrellas and Thai silk. There is a large umbrella factory that you can visit, then buy paper umbrellas and have them, bags, t shirts, jackets etc. hand-painted by artists who only charge $1 per hand-painted item.
There are also three or four silk factories and silk showrooms that showcase the most beautiful Thai silk clothing. As Thai silk is the best silk in the world, here you will get beautiful quality items at a fair price.
Shop at the Night Market – One of the best things to do in Chiang Mai in the evening is to shop at the Night Market. Chiang Mai has one of Thailand's best night markets, which stretches for about a mile with many small side streets off it.
At the night market, you can get fabulous Thai and western food, shop for handicrafts, toys, shoes, clothing, jewelry, bags, pretty much anything you can think of and, often, at prices much lower than similar markets in Bangkok.  The roaming Hill Tribe women selling jewelry, hats and belts also add to the fun atmosphere.
Visit Wat Chedi Luang – Wat Chedi Luang is in the old part of the city of Chiang Mai that was built in the 14th century (this whole area of the city is interesting, with old shops, a moat, an old city wall and gates and some fabulous restaurants). It's an interesting temple as it has an enormous chedi in the middle of the temple grounds, with large stone elephants built all the way around it.
The temple was damaged in the 16th century after an earthquake and was restored only recently. It's also famous in Thailand as it's one of the temples that used to be the home of the Emerald Buddha, one of Thailand's most sacred relics.
Sai Nam Phung Butterfly Farm and Orchid Nursery – One of the prettiest places in Chiang Mai is just a little way out of town. The Sai Nam Phung Butterfly Farm and Orchid Nursery is, like it sounds, a great place to see butterflies and to buy orchids (Thailand is famous for its orchids, especially the "White Orchid").
It's a lovely place to wander around and admire the flowers, or go into the butterfly enclosure and wait until a butterfly lands on your arm. You can also buy pretty souvenirs (silk hand-painted scarves, jewelry made from fresh orchids and gold, carved wooden objects) or just order orchids to have shipped back to your home country. Sai Nam Phung is only a few minutes outside Chiang Mai city center. Any taxi driver knows the way and the fare is cheap.
Chiang Mai has many interesting places to visit and things to do, but these five are the absolute must sees.