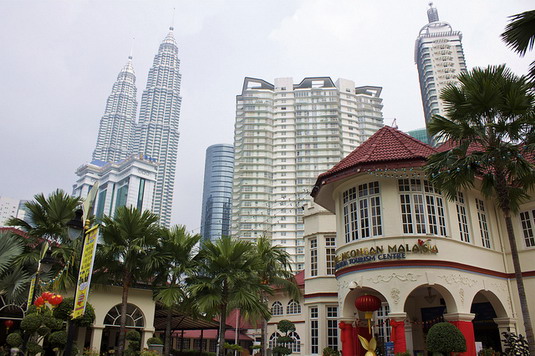 Kuala Lumpur (known throughout Asia as KL) is a popular destination for Asians who want to spend a few days shopping. The shopping malls in KL are excellent and some of KL's best shopping experiences and bargains are found in them.
Here are my top 5 favorites for the best malls in Kuala Lumpur.
1.Suria KLCC. This extravagant mall is located directly underneath the Petronas Twin Towers building, which was formerly the world's tallest building. It's a 6 level mall, which includes many of the top designer brands from both Asia and Europe.
During the year, prices are quite high, but during the annual Malaysia Mega Sale Carnival held in August, you will see prices slashed up to 80%. Bargains here during sale times are some of the best in Kuala Lumpur, especially because you're getting high-end items for a great price.
Related: The best places to eat at Suria KLCC mall in Kuala Lumpur, Malaysia 
Suria KLCC is the home of my favorite food court in KL. Housed right at the top of the escalators in the middle of the mall, it offers Indian, Chinese, American, Thai, Vietnamese, Greek and Japanese food, as well as healthy smoothies and desserts.
Prices are excellent – for example a full set Indian lunch with 4 dishes will cost you under $5 – and the quality is wonderful.
You can also take a tour up to the bridge that runs from one tower to the other tower of the Petronas Twin Towers. Just remember to reserve tickets relatively early in the morning for the specific time during the day you plan on going. The view from the bridge is spectacular, and the accompanying tour and movie very interesting.
There is a beautiful park adjoining the mall, which has a lovely lake and an elaborate mosque. Cafés and restaurants with a European flair are laid out all around the lake, so it is a lovely place to relax on a sunny afternoon or for an elegant evening meal. It is also a great place for kids.

2. Bukit Bintang and Sungei Wang Plaza. These are technically two malls right next to each other and connected in various places throughout the two buildings. They are right next to the hotel I stay at, so I spend a lot of time here. They are also next to the monorail that originates at the main train station, so are easy to get to.
Prices are fabulous (much like MBK in Bangkok which you can read about in my article on Bangkok's top malls), you can buy almost anything here, there are a myriad food outlets on every floor, and many trendy boutiques, hair dressers, electronics shops, eye wear places etc. During the Mega Sale, prices are cut so much you will find them hard to believe!
On the weekends it does get busy, but is still worth visiting. It is one of my favorite places for the cheap clothing stores, the Au Bon Pain on the ground floor that serves awesome sandwiches, and for the food court hidden away through winding corridors and back stairs where you can get a full buffet lunch for less than $4.
3. Berjaya Times Square. Billed as one of Asia's largest shopping malls, Berjaya Times Square is truly huge. Its many floors seem to stretch up into the heavens, and the view from the ground floor up is breathtaking. This is also the shopping mall where contestants from the Amazing Race Asia, season 1, had to rappel down to the ground floor from the 8th. Scary stuff, and not something I would have wanted to do!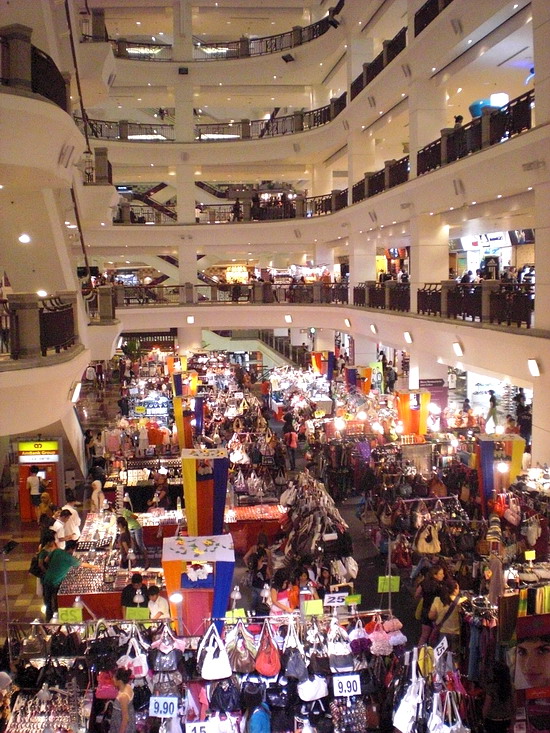 Many of the shops here are for the bargain-hunter. Clothing, toys, accessories, electronics, DVDs, CDs, bags, jewelry, watches, everything is on offer here. During the Mega Sale already low prices will go lower. Look for bargains on clothing and accessories, especially trendy t shirts and bags, and shoes and accessories.
Related: Cheapest places to shop in the Bukit Bintang area of Kuala Lumpur
The downside for this mall is the restaurants are pretty tired and seem to be unpopular. My recommendation would be to shop here, then nip across the street to Sungei Wang Plaza to eat.

4. One Utama. This one is a bit out of the way, as it is in a residential area of KL outside the city, but very easy to get to. I took the train to the Bandar Utama MRT station. The mall is right next to it.
One Utama has 6 floors and over 700 shops. It is the largest mall in Malaysia, and is known for its indoor tropical rainforest with many species of tropical plants and flowers. Here you can get something to eat or drink at one of the delightful cafes and restaurants in the rainforest.
It also has a great kid's entertainment section and a bowling alley, rock climbing arena and movie theatre.
Prices during the Mega Sale are similar to the other malls mentioned – up to 70% off on thousands of high-end and more inexpensive items, as well as some really cool promotional events, free concerts and shows etc, during the sale.
5. Mid-Valley Mega Mall. It is the most popular mall in KL, which you can easily get to by taking a bus from KLCC right to its doorstep. It is anchored by several large department stores or mega-marts including Jusco, Carrefour and Metrojaya.
It also has a few hundred other stores, two hotels, a large bookstore and several enormous food courts. Add a bowling alley, Kuala Lumpur's largest cinema complex, an amusement arcade and over 100 places to eat, and you could spend all day and night here.
It is further out of the city center than my top 3 favorite malls, but I still like going there. There are more locals and fewer tourists, and it's a fabulous place to spend a steaming hot or rainy KL day.
Consider planning a shopping trip to KL during the Malaysia Mega Sale Carnival, which is held every year in August. During this sale famous throughout the region, tourists flock to Kuala Lumpur from all over Asia as the sale prices are spectacular.
Retailers around Malaysia plan enormous sales as well as craft exhibitions, concerts, treasure hunts, midnight sales and other special promotions.
All in all, Bangkok has more malls and, I think, much better shopping but Malaysian malls certainly have their charms. Kuala Lumpur is also an easy city to get around because of its first-rate public transportation system.
Getting to any of these malls is not going to try your patience much and, with the mix of Malay, Chinese and Indian influences, they are all cool places to visit when it's too hot outside.