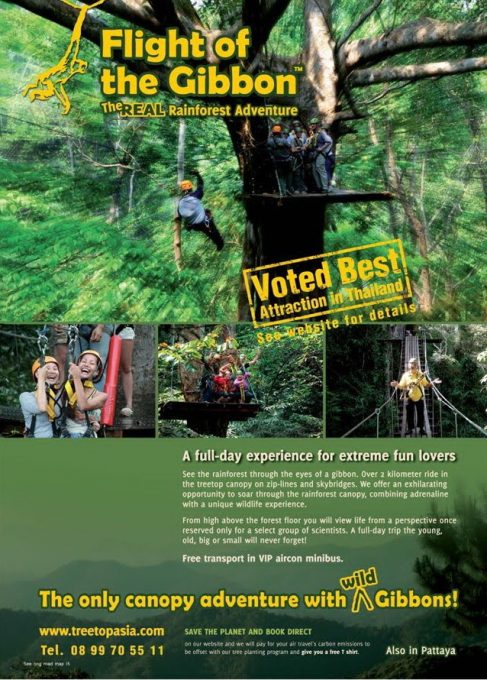 Many tourists visit Chiang Mai, Thailand every year to take an adventure tour. Chiang Mai, located in northern Thailand and surrounded by mountains and dense jungle, is a perfect place for adventure tours.
Every travel agent in Chiang Mai offers many different types of adventure tour to choose from, and with so many available it can be hard to choose. Over my years of living in Thailand, I have done several adventure tours and these three I recommend as the best.

White Water Rafting Adventure Tour – With several rivers around the Chiang Mai area, taking a white water rafting tour is popular – in fact, it is the top adventure tour in many people's minds. On one of these tours, you also not only get to experience some incredible white water rafting, on many you also participate in an elephant trek and see some of northern Thailand's impressive jungles.
I loved the White Water Rafting tour as it is just a day-long experience. You can take 2-3 day tours but, for me, I was happy enough to get two hours white water rafting in, a nice lunch and be able to see one of the area's top elephant camps and then ride an elephant.
On a typical white water rafting adventure tour, you are picked up at your hotel early in the morning and transported a couple of hours outside Chiang Mai. At the Mae Tang River valley, your tour group will split into several rafts and the adventure begins.
You raft for a couple of hours then stop for lunch at a local restaurant. After lunch, you get back on the bus, which has driven down river to meet you, and are taken to a Chiang Mai elephant camp to see an elephant show and experience an hour trekking on elephant back. After many hours of fun, you are back at your hotel in Chiang Mai by 6pm.
Trekking Adventure Tour – Chiang Mai tour companies offer many variants on the theme of jungle trekking adventure tours. Most are at least two days long (one overnight), and include elephant trekking, mountain biking, white water rafting and even staying overnight in a local hill tribe village (very rustic). You can choose a tour that is a combination of things you enjoy doing, with trekking adventure tours as long as a week.
Each tour comes with a certified guide and with prices starting at $80 for an overnight trekking tour up to several hundred dollars for longer, they're an inexpensive way of doing something more unique than the usual tourist stuff. Compare treks with several tour groups before choosing.
Jungle Flight or Zip Line Adventure Tours – Third on my list of top three Chiang Mai adventure tours is what is called the "Jungle Flight" or "Flight of the Gibbon". This is usually a half-day adventure tour but incredibly fun.
On a zip line tour, you are transported into the middle of northern Thailand's massive jungles where you're hooked up to a zip line high up in the canopy of the trees. You get to 'zip' down the line from platform to platform while being so high up the views are spectacular and the speed incredible.
You also walk across several sky bridges, you get all water and snacks, a delicious Thai lunch and all transportation included in the price.
I have done so many adventure tours in the Chiang Mai area I've become a bit addicted. Even when I go with friends who want to do the same tour I have already done, I still do them as, even a third time, they are just about the most fun you can have – especially for the price.