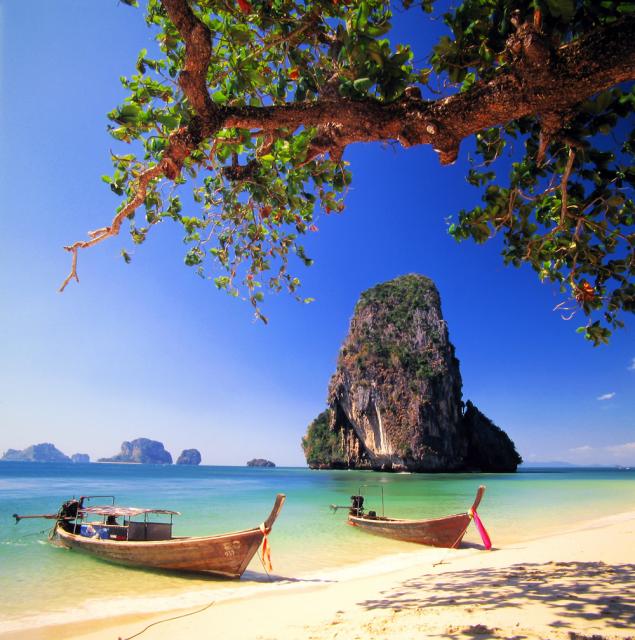 Planning on a beach vacation this year? If you haven't thought of it so far, start thinking about Thailand. Thailand has so many gorgeous beaches; it's often difficult to decide where to go but here are the ones we think deserve to be called "Thailand's Top Beaches".
They are perfect choices for a relaxing beach vacation.
Kata and Karon Beaches, Phuket
Kata and Karon beaches are two favorite places in Thailand. Located on the southern Thai island of Phuket, both of them are away from the sordid Thai sex trade industry that plagues many other areas of Phuket. Karon is the main little town, a beautiful place with little shops, cafes and restaurants and amazing seafood places.
Kata is right next door, and has a tiny exclusive beach where, not only can you sunbathe, but you can also see Thai fishermen setting out to fish.
The sand on both beaches is white and pristine. Long lines of loungers and Beach umbrellas can be rented for a small charge, and small bars interspersed down the Beach provide cold drinks whenever necessary. The water is bright blue and clear and is a great place to swim.
For people with small children, it's best to keep near to the shore as there is quite a large drop off, and the current does pull quite strongly further out. For those who are average to strong swimmers though, it's wonderful.
There are some hotels in Kata and Karon that are clean, quiet, and comfortable, with en suite bathrooms and swimming pools for only $20-25 a night.
Both beaches were badly damaged in the tsunami of 2004, but it's impossible to tell now. Everything has been rebuilt, all the beach umbrellas are new and the beach is as clean and gorgeous as ever. It's also good to go here to support the local population, as the tsunami damaged them financially as well as emotionally.
Laem Ka Beach, Phuket
For a full Thai experience, visit Laem Ka Beach near Rawai. Western tourists do come here, but not in the large numbers that other Phuket beach resorts sea. It is also the only eastern facing beach on Phuket that has good swimming.
Laem Ka Beach is out of the way (you drive to a coconut plantation to get to it), it's rocky, unspoiled, and with lovely sand. It also has great shaded areas, so is popular with families with kids as they're not likely to get sunburned and the water is safe to swim in.
There's only one restaurant at Laem Ka, but it offers good seafood, snacks and drinks. There will usually also be food vendors who will walk along the beach selling cut fruit, taro, and other snacks.
From Laem Ka, you have an amazing view of several islands in the bay, and the water is a clear deep turquoise blue that is breathtaking to see. If you want a quiet, relaxed, non tacky, non touristy place, then Laem Ka Beach should suit you perfectly.
Hat Sai Kaew Beach, Koh Samet
Koh Samet is an island ('koh' is the Thai word for 'island'). It's a 20 minute boat ride from Rayong, 2 hours south of Bangkok. There are many beaches on Koh Samet, but one favorite is Hat Sai Kaew. It's a 1 kilometre beach with the softest, whitest, most powdery sand you've ever seen.
The water is so blue it hurts your eyes, and it's a very relaxing place. If you like, you can scuba dive, wind surf, or ride a banana boat. All are available at cheap prices.
There are bungalows you can rent for as little as $10 a night (although we would recommend paying the $15-25 a night range, as these tend to be cleaner and come with air conditioning and daily maid service). There are small bars, restaurants and shops spread the whole length of the beach, where you can buy amazing Western-style breakfasts, Thai omelettes, wonderful seafood, and delicious cocktails.
At night, everyone hits the beach to eat dinner at one of the many candlelit restaurants, then takes blankets onto the sand to relax drinking beer or cocktails and to watch the fire dancers.
The crowd here tends to be a younger crowd, but it's not loud, raucous or crazy. It's more a relaxed, mellow type place to be and perfect if you want an inexpensive beach getaway for a few days.
Lamai Beach, Koh Samui
Koh Samui is the third largest island in Thailand. It's 700 kilometres south of Bangkok, and is a tourist-oriented place. However, it does have amazing beaches.
Lamai Beach is the second major beach on the island, Chaweng Beach being the first. Lamai is much quieter than Chawang, and the swimming is even better. The water is crystal clear and bright turquoise blue, and the beach has the most perfect white sand.
There are good restaurants where you can buy a cheap delicious lunch, and the usual vendors who travel along the beach selling snacks, beach balls and small Thai souvenirs. There is also an interesting museum at a small local temple nearby. Dive shops are plentiful, so you can head out on a boat and spend the day diving in the incredible waters off Lamai.
You can even take one of the hiking trails nearby or visit the local open-air market, if you don't want to spend the day on the beach. At night there's a busy nightlife with many restaurants, clubs, bars, live bands. Like most Thai beach resorts, the seafood restaurants are spectacular and cheap.
Lamai as a great place for singles and younger couples as well as families with small children. Older folks, who like a bit more peace and quiet, might want to head to a quieter place on Koh Samui, somewhere like Maenam Beach or Coral Cove.
Sairee Beach, Koh Tao
Another popular Thai island, Koh Tao is about 50 kilometres north of Koh Samui. The two main reasons why Koh Tao is so popular however, is because the island is relatively quiet and the diving is world class. It has the absolute best diving in Thailand and, some people say, even the best diving in Asia.
Sairee Beach is almost 2 kilometres long, has a good selection of hotels, bungalows, restaurants and beach shops, and more dive centers than anywhere else on the island. Divers come from all over the world to dive in these waters, so if you're a dive fanatic, Sairee Beach is the place for you.
Thai beaches come in all varieties, big, small, for the young or for the more sedate crowds, for people who like sunbathing and for those who want water sports and adventure. The main thing they all have in common is they are beautiful. You will have a perfect holiday at any one of them.