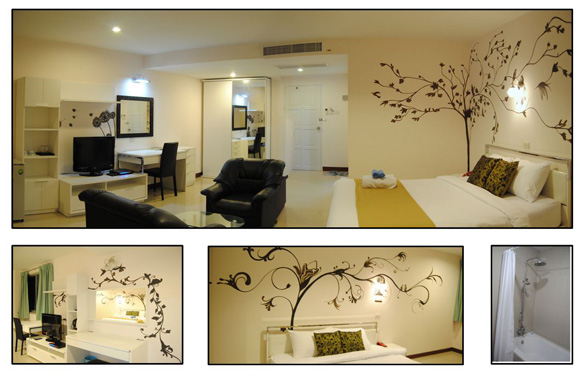 Hua Hin is Thailand's most popular beach resort. It can also be a cheap place to stay as there are many budget hotels in Hua Hin. With so many budget hotels to choose from, it can be difficult to pick  a place. But don't worry. Consider these four top Hua Hin budget hotels.
All four hotels are cheap, but excellent quality so offer a very good standard of accommodation. You will be surprised at just how nice they are.
Top Marks Hotel, Hua Hin – The first time I had a vacation in Hua Hin I stayed at the Top Marks Hotel, an excellent budget hotel in a great location. Recommended by a friend, it is a couple of blocks from the beach, right behind the main shopping and restaurant street and had just been newly renovated.
They have economy to deluxe rooms with rates starting at only 600 baht per night (around $18) and going up to 1,400 baht ($40). I stayed in a Deluxe Room with a lounge and, for only 900 baht per night ($28), it was huge.
All rooms are either air-conditioned or have a fan (most are air conditioned), with cable TV, fridge and mini bar. The hotel has a beer garden, a bar, a pool table and lounge area and even a small gym. The staff is incredibly friendly and the convenient location seriously cannot be beat. 100/4-6 Poonsuk Road, Hua Hin
GHouse Hotel, Hua Hin – A relatively new budget hotel in Hua Hin, GHouse Hotel is not only cheap it's beautifully designed too. Absolutely sparkling clean, GHouse Hotel is designed in true Thai style with dark wood furniture and white linens and walls. There are 60 rooms, 30 with double beds and 30 with twin beds, and each room comes with a refrigerator, free Wi-Fi internet, air conditioning and cable TV.
The hotel itself has a lovely open lounge area and restaurant, friendly staff, and serves excellent food. GHouse House is a fair way back from the beach but a 15 minute walk through Hua Hin will get you there (or a 5 minute tuk-tuk ride, of course!). Room rates begin at only $36 a night and go up to $46 at high season, but this also includes breakfast. 2/225, Hua Hin Nongplub Rd, Hua Hin
Narawan Hotel Hua Hin – With 51 rooms and 3 suites, Narawan Hotel in Hua Hin is a budget travelers dream. All rooms are air condtioned with cable TV, mini bars with coffee and tea making  facilities, refrigerator, flat screen TVs, writing desk and hairdryers upon request. Narawan Hotel itself has a gorgeous swimming pool, jacuzzi, massage services and free internet.
Located on Petchakasem Road, it's on one of the main roads of Hua Hin with excellent restaurants, cafes and shops all around. Room rates start at 1,300 baht ($38). 250 / 131 Hua Hin Soi 94, Petchakasem Rd. Hua Hin
Baan Manthana Hotel – If you're looking for a cheap hotel in Hua Hin but one that's great quality, look no further than Baan Manthana Hotel. It's a new hotel, right in the middle of town and less than a 10 minute walk from the beach. With its own swimming pool, jacuzzi and Thai massage, it's also the perfect place to relax.
Each room at Baan Manthana Hotel includes air conditioning, bath tubs as well as showers, cable TV, tea and coffee making facilities, DVD players and Wi-Fi internet. Superior Rooms begin at 1,050 baht per night ($30). Baan Manthana is located at 24/10 Srasong Rd., Hua Hin.
Hua Hin is known as one of the most expensive resorts to stay in in Thailand but it doesn't have to be. With these budget hotels to choose from, you will still have a relaxing, luxurious vacation but without paying an arm and a leg.