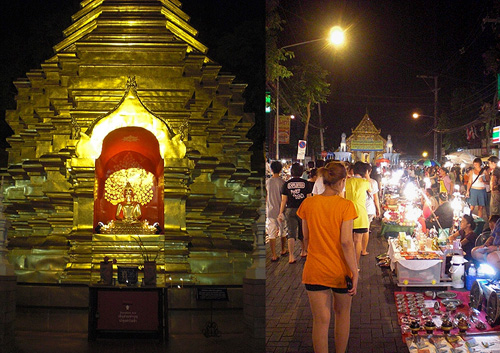 My favorite place to take a holiday in Thailand is Chiang Mai. A city surrounded by mountains, in the midst of glorious countryside and full of markets, cool cafes, and beautiful Buddhist temples, Chiang Mai is also home to  hundreds of cheap hotels, where a night's accommodation can be bought for under $50.
On every visit to Chiang Mai, I stay at a different hotel, with the only criteria it must be under $50 a night. In many visits to Chiang Mai, I've stayed at many hotels but these three hotels offer the best accommodation under $50 a night the city has to offer.
Empress Hotel Chiang Mai – I'm a huge fan of the Empress Hotel in Chiang Mai, having stayed there four or five times. Upon arrival, the entrance is impressive and the lobby even more so, yet it's the lovely staff and the superb Thai hospitality that makes this hotel so special.
The Empress Hotel is not only an inexpensive hotel in Chiang Mai, surprisingly, the Thai royal family has also been known to stay here. One of the Thai princesses was here on my last visit, and once the prince when my parents stayed here. If the Thai royal family can stay here, then it should be superb for you.
Rooms at the Empress are spacious, with comfortable beds and marble bathrooms. Many of the rooms have mountain views, and all feature satellite TV, coffee making facilities, robes and slippers, a hairdryer, a mini bar and air conditioning.
The hotel has a large restaurant, that serves a superb (and massive) buffet breakfast included in the room rate, and there's a pretty cake shop where you can enjoy an afternoon cup of coffee and a pastry. There are also two other restaurants on the second floor of the hotel. The Empress Hotel has a swimming pool and a fitness center.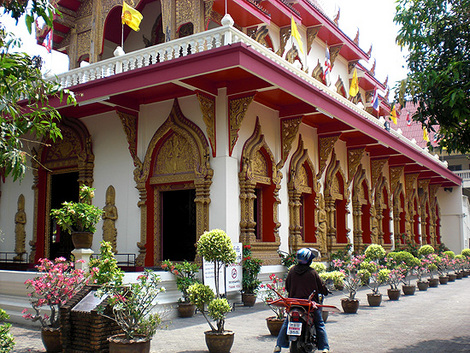 Room rates don't usually fall anywhere under $50 a night if you book on the hotel's website (they're normally $100-plus) but, if you book the Empress on any online booking service (Asiarooms.com, Booking.com etc.) they always offer rates as low as $35-45 a night. In fact, the last time I stayed at the Empress, I paid an amazing $28 and that included breakfast.
Chang Thai House – A boutique hotel that gets rave reviews from its guests, the Chang Thai House hotel comes in at under $50 a night, if you book on a hotel booking site (or $51 a night on the Chang Thai House website).
The Chang Thai House, 'Chang Thai' means 'Thai Elephant', is located in the Old City of Chiang Mai, so right in the thick of things with cool art galleries, cafes and restaurants and, of course, the enormous Sunday Walking Market. Guest rooms are beautiful, decorated in a mix between contemporary and traditional Lanna style (northern Thai), and are exceptionally clean.
Each guest room has single or queen size beds, Wi-Fi internet, flat screen TV with cable, mini bar and tons of storage space. (They really are gorgeous too).
The Chang Thai House has a beautiful restaurant serving Thai and European food and a lovely swimming pool, that's private and secluded, so you can sunbathe or swim in peace. For under $50 a night, you won't believe how lovely this boutique hotel is.

Mandala House – Easily falling under $50 a night at the bargain price of $28-38, the Mandala House is an ethnic-style boutique hotel that's beautiful, comfortable, unique and in an excellent location. Situated on Thapae Road, Mandala House is surrounded by art galleries, cafes, popular pubs, bars and restaurants.
The hotel's guest rooms are small but beautifully furnished in contemporary Thai style. Each room has an en suite bath, air conditioning, Wi-Fi internet, TV with cable, mini bar, mini fridge and a work area. Rooms have tiled floors, which also makes them superbly clean.
Mandala House itself has a small restaurant, where breakfast is served every morning, which is also included in the room rate.
More Information:
Booking.com – cheap hotel booking site
AsiaRooms.com – cheap hotel booking site for Asia