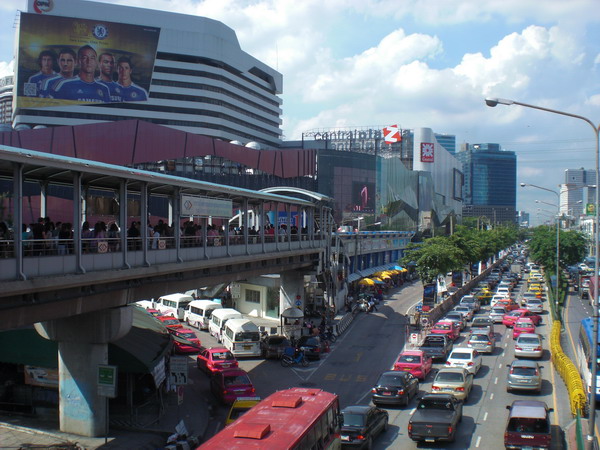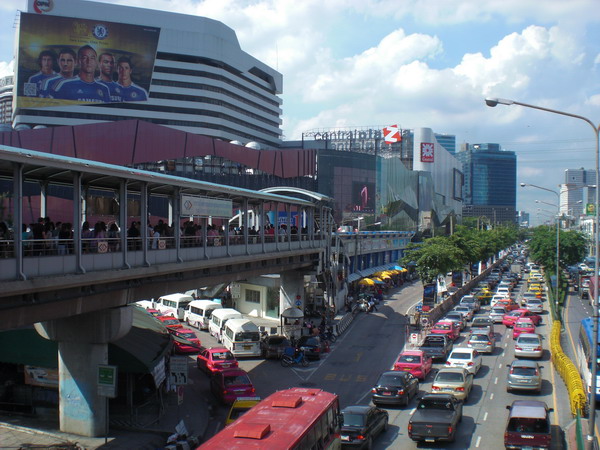 Pahonyothin, (also spelled Paholyothin) is a popular area of Bangkok, Thailand. It is located in the north of the city, further away from most tourist destinations, but still well-visited by foreign students who take short courses at local schools (Kaset Sart University, Text and Talk TEFL School, etc), as well as by expats who come to work temporarily at international businesses in the area.
Many look for cheap hotels around Pahonyothin, particularly if they plan to stay a few weeks. Luckily, that's not a problem as Pahonyothin has some wonderful ones. These are three of the best.
Poonchock Mansion (PMansion) – What is known as a 'serviced apartment', meaning it comes with maid service, security guards, cable TV and a few other nice amenities, Poonchock Mansion is popular with students who study at Kaset Sart University and at Text and Talk TEFL school, as well as with expats temporarily seconded to international businesses nearby.
At Poonchock Mansion, although rooms are old-fashioned looking, they are clean, well taken care of, and very large compared to other hotels in the area. They also come with modern amenities, including cable TV, and a kitchenette, with a microwave oven, refrigerator and hot water kettle, and a private ensuite western-style bathroom. Room rates include weekly maid service.
Room rates for the smallest guest rooms (still 36 square meters, so quite large) begin at 8,000 baht ($260) a month. If you pay for a month instead of a daily rate (which is far more expensive), daily electricity charges are on top of this, so add another $75 a month to your total cost. Still cheap though for a month's accommodation.
You'll find Poonchock Mansion at 27 Pahonyothin, Soi 23, just a five minute taxi ride from the MRT underground train station, the BTS sky train station, and within walking distance of Major Ratchayothin Mall, Union Mall and Central Ladprao Mall.
Bansabai Hostel – A place I recently stumbled upon after 10 years of living in the Pahonyothin area of Bangkok, Bansabai Hostel is absolutely lovely. One of Bangkok's few hostels, it offers not only clean, comfortable accommodation with lovely staff, but is located in a true Bangkok residential areas, so here you get to see the real Thailand.
At Bansabai Hostel, rooms have private bathrooms, air conditioning, cable TV, and refrigerator. Room rates include breakfast and a shuttle service at 9am every morning, that can take you directly to the underground or sky train, or to one of several downtown tourist attractions, including Khao San Road. The hostel also has free Wi-Fi internet, and a swimming pool.
Room rates begin at 900 baht ($30) or, if you prefer a bed in a dorm, they're even cheaper at only 390 baht ($13) a night. They also offer discounted weekly rates, if you plan a longer stay.
Bansabai Hostel is at 8/137 Moo 3, Soi Sahakon 15, Latphrao 71, Latphrao Rd, Bangkok.
Sena Place Hotel – Located just a few minutes walk from Saphan Kwai BTS sky train station, Sena Place Hotel is wonderfully-situated for anyone who wants to study or work in the Pahonyothin area, and who also wants to be easily accessible to downtown Bangkok. It's also only a five minute sky train ride away from the world-famous Chatuchak Weekend Market.
At Sena Place Hotel, rooms have private baths, cable TV, mini bar, and refrigerator. The hotel has a small Chinese restaurant, a coffee shop, a pool, and a fitness center. Room rates start at 850 baht ($28) per night (book on a hotel booking site and not at Sena Place Hotel's website, as you'll pay less), which also includes breakfast.
Sena Place Hotel is away from the tourist areas of Bangkok too, and is in a wonderful neighborhood to experience authentic Thai culture. (Don't misunderstand the dark areas at night for being unsafe. Saphan Kwai is one of the safest areas of Bangkok, so you'd never have problems here. Something some tourists who stay here don't understand). The hotel also has a free tuk-tuk that will take you to and from the sky train.
Sena Place Hotel is at 17 Phaholyothin Road, Soi 11 , in Bangkok.
More Information: