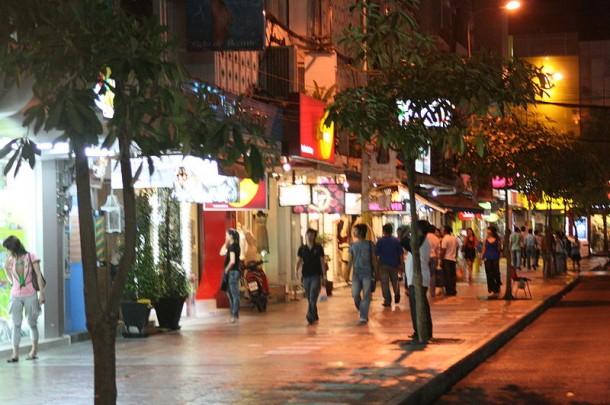 Siam Square is a large shopping and dining area slap bang in the middle of Bangkok, Thailand. It's also a popular student hangout so most of the venues here are cheap. That's why, if you're looking for a cheap yet superb meal while in Bangkok, Siam Square is one of the best places to find it. in Siam Square, there are many inexpensive restaurants and these four are some of the best.

S&P – One of my favorite Thai chain restaurants, S&P serves excellent quality Thai, Chinese and Western dishes with large portions. S&P offers pasta dishes, rice and curry dishes, sweet and sour pork, chicken with chili and basil, fish dishes, Som Tam (spicy papaya salad), and lots more. S&P also serves authentic Thai desserts (don't miss the taro and sweet rice, it's delicious), fruit shakes, coffee drinks, beer and soft drinks.
An average entree at S&P is around 80 baht ($2.80), which with the excellent quality and large portions is very cheap. All S&P restaurants are air-conditioned and the staff is friendly and helpful. For a cheap meal in comfortable surroundings, they're hard to beat.
Chester's Grill – Another cheap Thai chain restaurant in Siam Square, Chester's Grill is known for its chicken dishes – Korea chicken with rice, fried chicken and French fries, chicken and rice with an incredible tangy sweet sauce, grilled chicken burgers, as well as hot dogs, salads and spaghetti. Chester's Grill also serves a number of set meals – meaning a chicken dish, with a side order of French fries or a salad and a soft drink and at less than $3 for the whole meal, it's a steal.
The other thing I love at Chester's Grill, beside the cheap price, is even though it's fast food and you order at the counter, once your meal is ready, it's brought to your table by a waitress, who pleasantly serves you. Chester's Grill also has coffee drinks, fruit juices and shakes. Expect to pay $3 or less for a fairly large meal.
Tasiam – A traditional Thai noodle shop, Tasiam serves what Thais call 'boat noodles' (small bowls of noodles) at a cheap price. You'll recognize Tasiam by the massive wooden boat in the entrance way, on top of which are the restaurant's chefs, cooking.
At Tasiam, they specialize in various types of noodles, both in broths and fried and served with different meats and vegetables. They also have fried chicken wings, spring rolls, spicy papaya salad and various other traditional Thai dishes. Try the Thai iced tea here too. It's wonderful. For an appetizer, entree and a large iced drink, expect to pay no more than $3.75 and you'll roll out of there, you'll be so full.
Ban Khun Mae – Ban Khun Mae, literally meaning "Mother's House" in Thai, is a traditional 2-storey Thai restaurant that's very famous in Bangkok. At Ban Khun Mae, expect prawns with glass noodles, fried chicken wrapped in pandanus leaves, chicken green curry and stir fried chicken with cashew nuts, just to name a few.
Ban Khun Mae is also known for its set menus, which are an amazing deal if you're with a large group. For as low as 350 baht ($11), you can enjoy five entrees, rice and an assortment of desserts. Ban Khun Mae is slightly more expensive than the other restaurants listed here, but lunch or dinner will still come out at $7 or less and the portions are substantial.