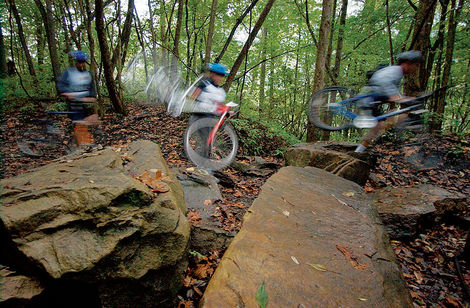 Mountain bikers are flocking to Chiang Mai in droves to take one of the popular Chiang Mai cycling tours. With many tour companies to choose from offering cycling tours to different areas or for different lengths of time, many travelers take tours with a couple of groups.
With so many Chiang Mai cycling tour companies to choose from, it can be difficult to choose. That is why this list of the top three cycling tour groups in Chiang Mai will probably help.
Click and Travel – Known throughout the Chiang Mai tour group arena as being a respected and reliable tour company, Click and Travel offers some of the best cycling tours in the Chiang Mai area. They're family-owned by a Belgian and his Thai wife, and have been running cycling tours for more than 10 years.
If you are looking for anything from a cycling tour just for a few hours to one lasting several days or longer, Click and Travel does it all. They also cover all of the Chiang Mai area as well as most of northern Thailand. You can do a half-day tour around the south, north or east of Chiang Mai to see country roads, rice fields, mountains, beautiful temples and, on one tour, even stop off at a former leper colony.
For longer tours, look at a three-day cycling tour around the Chiang Mai area, where you will experience ancient temple ruins, see rice farmers in action (and get to help, if you like), visit local markets and get to spend each night at a pretty Thai-style resort.
Each tour includes an English-speaking guide, bottled water and snacks, bicycle and all the equipment including helmet and insurance. Meals are also included in the longer trips. To contact Click and Travel, call +66 (0)53 281553 or check tours on their website (see below).
Spice Roads – Spice Roads is a large cycling tour company that's been in existence since 1992 and covers just about all of south east Asia. In northern Thailand, they offer half-day, full-day, and three and four-day tours, with visits to many areas of historical interest.
On the half-day tour, you'll start off cycling around Chiang Mai itself; completely different from the seat of a bike. Moving out into the surrounding countryside, you'll visit a temple, see traditional teak houses and explore the ancient city of Wiang Khum Kham.
The four-day tour includes cycling country roads and elephant trails, waterfalls, cave visits and temples. It also includes visiting a hill tribe village, a long tail boat ride and an elephant ride, as well as several days in small resort hotels all over northern Thailand. Call them at +66-(0) 2-712-5305.
Chiang Mai Mountain Biking – Running both daily tours and 2 and 3 day tours, Chiang Mai Mountain Biking is a popular cycling tour company choice for both beginners and those more proficient in mountain biking. Their first trip, The Eagles Route, is a good place to start as you take a 4 wheel drive vehicle up to the top of Doi Pui, the mountain overlooking Chiang Mai.
It is an easy mountain bike course for beginners as it's all downhill and stops at a coffee plantation, a waterfall and has a nice break for lunch.
Longer tours include the 2-Day Himalayan, (an uphill bike ride and a night spent sleeping in the cold mountain air) and the 3-Day Adrenaline Rush, (mountain biking, white water rafting and mountain climbing). Contact Chiang Mai Mountain Biking for more information at +66 (0)81-024-7046.
More Information: