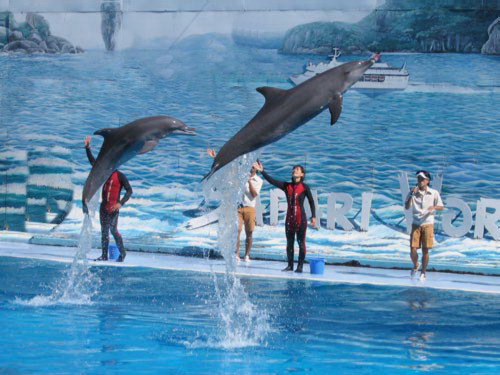 Tens of thousands of tourists come to Bangkok, Thailand with children every year and many worry how to entertain their kids in what is one of the world's biggest and busiest cities. Never fear, there's tons of stuff for children to do but especially theme parks. Bangkok has some excellent theme parks that not only kids will love, but parents too.
Plus, the great thing about Bangkok theme parks is, unlike the west, they are cheap! Check out these best theme parks in Bangkok and make sure you take your children. They'll have a wonderful time and remember their Bangkok holiday for years to come.
Dream World – Dream World is the best and most famous theme park in not only Bangkok but Thailand too. Dream World is a theme park that has something for everyone.
Three roller coasters, tons of kids' rides, paddle boats, go-carts, bumper cars, seven wonders of the world, a copy of the Grand Canyon you can take a boat ride down, and even Snow World – where you can play in fake snow in one of the hottest countries in the world.
Dream World is split up into different areas – Adventure Land, Fantasy Land, Dream Garden – with different types of rides and attractions in each. There are thrill rides, rides based on Thai history, waterfalls and ponds, and even a Hollywood Action Show. Tickets start at 850 baht (around $24) but check with your hotel before you go as they'll often have special deals that will also include a van to and from Dream World.
Just be warned, it is absolutely crowded on the weekends, so try to go during the week if possible as then you'll only be competing with the Thai school trips and a few foreigners.
Siam Park City – One of my favorite Bangkok theme parks is Siam Park. It has an absolutely enormous artificial lake that has a beach and water slides – some of them are incredibly long – and even has an amusement park, a zoo, a children's playground and a pretty good bird park.
Bangkok is incredibly hot so a day at Siam Park swimming, sliding down the water slides or splashing with your kids in the kiddie pool will cool anyone off, and your kids will love it.
Siam Park City is actually the largest water park in south east Asia, and it officialls has the world's largest wave pool (according to the Guiness Book of Records) so you can imagine the size. It is also loaded with amusement park rides – a huge pirate ship, a Jurassic Park ride, a loop-the-loop, a Vortex ride, a couple of excellent roller coasters and even a fun haunted house.
Spend the morning in the amusement park and then the afternoon lying on the 'beach' relaxing and staying cool. Prices start at 850 baht (around $24) with, again, hotels often having specials so check at the reception desk before you go.
Safari World – Safari World is basically a zoo in Bangkok that has two theme parks – Safari Park and Marine Park. Unfortunately, you have to pay two separate entrance fees so, if you want to see both places, it can get quite expensive.
Safari Park is where you can drive your car through a 7 kilometer drive of giraffe, elephants, zebras and more. Or, if you don't have a car, there's a bus you can take that has a guide who will explain everything about the park and the animals you'll see along the way. You will also see an orang utan boxing show, a Hollywood cowboy stunt show, a Jungle Walk and much more.
Marine Park has a lot of animal and marine life shows (sea lions, dolphin, polar bear) that kids will really enjoy. Also, don't miss Spy War, where a 'secret agent' has to evade enemy gunfire, and capture the bad guys – all done from the seat of a jet ski – a really exciting show to watch.
Safari World is a jam-packed full day out for all the family, as moms and dads will enjoy this as much as kids do. There's also some pretty decent restaurants, snack bars and food stalls and great gift shops too.
For Safari World, it is best to avoid the organized tours as they get very expensive. Instead, take a number 26 bus from Victory Monument to Minburi and then a taxi or minicab from there will take you straight to Safari World. Entrance fee is around 750 baht ($21) per park for adults and 450 baht ($13) for kids, but is well worth the money.
These three theme parks are some of Bangkok's best. They will provide hours of fun for all the family, are quite cheap and, if you make a day of it, don't forget to try one of the many Thai food stalls you will find at every theme park.