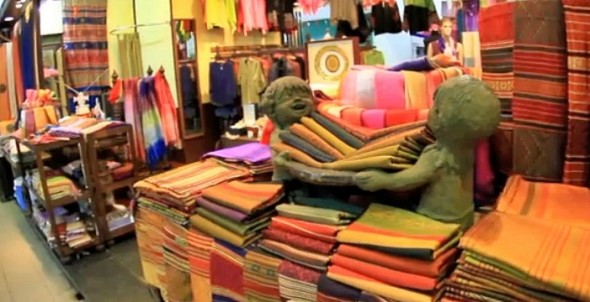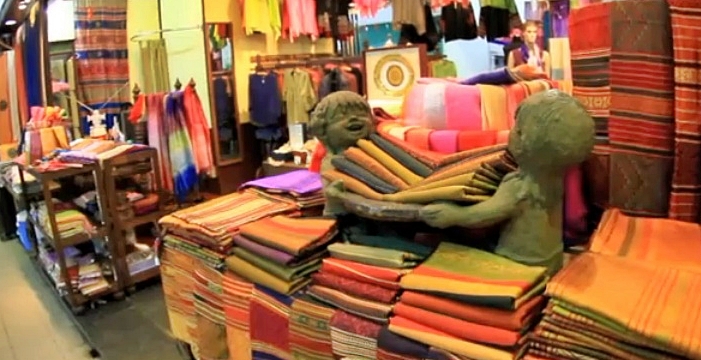 It's no wonder Thais flock from all over the country to shop in Chiang Mai, Thailnd. Most Thai handicrafts are made in the Chiang Mai area so not only is everything available there but it's usually cheaper than in other places in Bangkok. If you're interested in shopping in Chiang Mai though, there are five products you should buy, as not only are they cheap but their quality is incredible too.
Thai Silk – Thai silk is cheap in Thailand and it's also some of the best silk in the world. It's particularly good to buy in Chiang Mai though because there are so many silk factories just outside the town. You can do a tour of the silk factory and then visit the factory showroom to find some of the most beautiful silk clothing in the world.
Chiang Mai's Night Bazaar is also a wonderful place to buy Thai silk as is the Sunday night Walking Street Market. Thai silk scarves start at $2.50 and go up to several hundred dollars depending on design, size and quality. Silk shirts are as low as $5 for lower quality silk and as high as a few hundred for very high quality. Remember, especially at the markets, bargain and you should get an even lower price.
Wood Carvings – Chiang Mai is famous for wood carvings. You can visit the wood carving factories and see first-hand how they are made (they really are beautiful!), then purchase small or large wood carvings in the factory showroom.
Again, wood carvings are available at the Night Bazaar, as well as in many small shops throughout Chiang Mai. Small pieces go for as low as $5 and large, intricately carved pieces for several hundred. If you like hand carved wood, make sure you also check out the wood furniture. It's gorgeous and very reasonably priced for the quality of the workmanship.
Thai Handmade Soaps and Lotions – A lot of Thailand's handmade soaps and lotions are made in Chiang Mai. All over Chiang Mai you'll see displays of handmade soaps and lotions. My favorite soaps are those made with vanilla, tamarind, lemongrass, or clay. Handmade lotions usually smell lovely – watermelon, strawberry and vanilla are my favorite scents – and have no chemicals in them like factory manufactured lotions.
You can buy bars of handmade soap at cheap prices at the Night Bazaar and in small stores. The Sunday Walking Street Market is also a wonderful place for handmade soaps. I bought three handmade soaps in different scents for 99 baht (around $2.75), which in Bangkok would be almost double the price. Lotions are as cheap as 70 baht ($2).
Handmade Traditional Thai Clothing – Much of the traditional Thai clothing is made in Chiang Mai from linen, silk, cotton and hemp. Fisherman's pants are cheap and come in lots of different colors. Traditional Thai hemp shirts are also everywhere, as well as linen baggy pants, long silk skirts and linen jackets with beautiful embroidery. You can buy fisherman pants as cheap as 100 baht ($2.80), and linen shirts for as low as 250 baht ($7).
Don't forget, you can also get traditional Thai clothing made to measure at any of the hundreds of Chiang Mai tailors.
Thai Snacks – Chiang Mai is famous for many Thai snacks and Thais come from miles around to buy them. On every market, you'll see bags of dried sweetened cherries and plums, dried mango, papaya and coconut. Spicy sausage is also everywhere and Thais come up from Bangkok to buy it.
Chiang Mai is also famous for pork rinds, with huge bags of the stuff available everywhere. Your best bet is to buy it at any of the markets as it's fresh and will be bagged as you purchase it.
You can buy bags of dried plums(about half a pound) for as low as 35 baht ($1) and can choose from sweetened or unsweetened (quite sour, but delicious). On my recent visit to Chiang Mai, I brought back bags of dried unsweetened cherries, dried dates, and two huge bags of pork rinds. They were all scrumptious and nothing cost me more than $1.
There are many things to buy in Chiang Mai. As well as the above items, also check out handmade wooden vases, Celadon pottery, handmade bathrobes, towels and bathmats, belts, shirts, paper lamps, handmade jewelry, shoes, wooden games and lots more. There's something for everyone to buy in Chiang Mai.