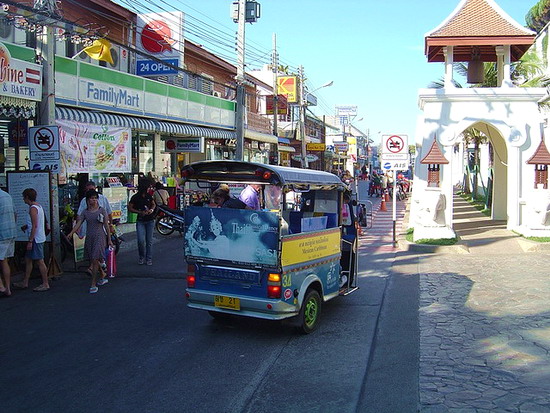 Hua Hin is one of Thailand's top beach destinations. Just a three hour drive from Bangkok, it's a popular place to go for a long weekend for Thais and foreigners who live in Bangkok, as well as a great place to relax for a week or two. Once a small fishing village, Hua Hin is now a thriving resort town with beautiful hotels, a white sandy beach, lots of shops and restaurants and a fun night market. There are so many things to see and do in Hua Hin, it's often difficult to choose what to do first. But these are the top five.
See the Hua Hin Railway Station – Hua Hin Railway Station is seriously one of the prettiest you'll ever see and easily on everyone's top five things to see in Hua Hin.
It's only small and made almost completely out of wood and then painted white and red, it embodies the perfect village station. With only two tiny areas, it's all open-air, with lots of flower boxes and shrubbery to delight the eye. Don't miss the building next to the railway station. This is the royal waiting room and is popular with photographers from all over Thailand, as it's built in traditional Thai style with the typical peaked roofs and elaborate eaves.
Hua Hin Railway Station is right in the center of town, so easy to walk to. Plus, if you want some great photos, here's where to get them. You can even take a train to Hua Hin all the way from Bangkok, if you'd like to arrive in town like in days gone by.
Klai Kangwon Palace – One of the most famous places in Thailand, this is the original Summer Palace for the Thai Royal Family and is built in Spanish style. It has a lovely shell museum, gorgeous manicured gardens and an air of tranquility and calm. Popular with Thais, as this is still the summer home of the present Thai King, beloved by all Thais, you can visit Klai Kangwon Palace every day from 9am till 6pm unless a member of the Royal Family is in residence.
Khao Luang Cave – Another on the top five best things to do in Hua Hin is Khao Luang Cave. This enormous cave system is reached by climbing a series of steps, into the front entrance of the cave. With natural sunlight
coming through some of the caves roof openings, you'll see incredible Buddha statues, commissioned to be built by King Rama V. It also used to be a favorite spot for Royal picnics.
There's even a myth, which says the cave is actually the doorway to a mythical village where the only people who live there are beautiful young Thai women with no husbands. It's been a must-visit place for Thailand's male population for many years, who probably were hoping they would be lucky enough to find the entrance and be transported into the land of plenty.
Eat Seafood at Hua Hin – You can't go to Hua Hin without eating fresh seafood. Known all over Thailand as one of the places to find the best seafood in the country, there are wonderful restaurants set up on long wooden piers that reach out into the ocean.
Here, for lunch and dinner, you'll enjoy amazing fresh fish, crab, shrimp, squid, and more (I had the best clam chowder soup I've ever eaten here), delight in the sea breezes and watch the boats go by. You'll also find some restaurants with live music and lots of happy tourists, enjoying a drink and a fine meal.
Visit Hua Hin Night Market – Although one of the smallest night markets I've ever seen, Hua Hin is on my top five best things to see in Hua Hin because of the food. Set up on a couple of downtown Hua Hin streets, it's open every night until around 11pm. Street food stall owners set up plastic tables and chairs and, here, you can get some of the most delicious local food in Thailand. Pad thai so fresh the chicken is almost clucking, Thai green curry, som tam, chicken satay, squid on a stick, even the Thai version of funnel cakes loaded with powdered sugar and enough for about three people. Also find one of the homemade ice cream stalls – yum, yum, yum.
At Hua Hin Night Market, you'll see stalls full of bags, jewelry, pillow cases, watches, DVDs, CDs and many other delights. Just remember to bargain and you'll get a great price.
Hua Hin is a wonderful little Thai resort town. Check out these top five best things to see and do, and then see all the rest too. With coffee shops, great cafes and restaurants, a bustling night club scene, long white sand beaches, temples, caves, horse rides on the beach and more, there's something for everyone, young and old. And all done in the traditional Thai style – with lots of smiles and laughter.
Photo copyright – Hua Hin's main shopping street that leads down to the beach – puukibeach, Creative Commons License