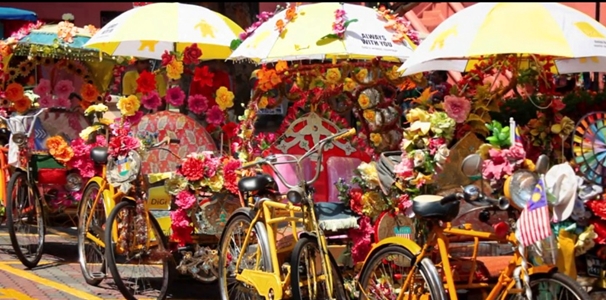 I travel so much to Kuala Lumpur, Malaysia, I've seen most of what the city has to offer. So, on my last few trips, I've taken weekend trips outside Kuala Lumpur instead, to see what else the area has to offer. Not surprisingly, there are many places you can take weekend trips to that are not very far from KL. These five places are my top five best places to go for weekend trips out of KL though, as they're easy to get to and interesting when you get there.
Historic Malacca – Malacca is one of the most popular weekend trips outside of Kuala Lumpur. It's also a wonderful place for a day trip but I like to go for longer than one day because there is so much to see. Malacca (sometimes also spelled Melaka) is full of Dutch history (the Dutch were one of the first groups to trade in Malacca), Dutch architecture (building, churches, museums etc), old ruins and Chinese temples and shop houses.
There's also a wonderful street called Jalan Hang Jebat (Jonker Street) which is famous for antique shops, art galleries and Malaysian and Chinese handicrafts. Here you can also grab a coffee or a meal at one of the interesting restaurants or cafes.
To get to Malacca, you can take a tour (one-day to three-day tours) or rent a car and drive. It's only around two and a half hours from Kuala Lumpur and the drive down there is very pretty too.
Cameron Highlands – Another popular weekend trip from Kuala Lumpur is to Cameron Highlands. Cameron Highlands is famous for many things but one of them is that it was the place where Jim Thompson, the famous silk trader, disappeared. He went out for a walk into the highlands and was never heard from again. Cameron Highlands is one of the most beautiful areas of Malaysia.
Full of hills, jungle trails and tea plantations and with a much more pleasant temperature than the very hot KL, it's a lovely place to relax. Stay at one of the many guest houses or small hotels and take a tour around a tea plantation, go for a jungle hike or visit the Butterfly Farm. If you're a nature lover, you will love the beautiful views and clean air of Cameron Highlands. There are several ways to get there. You can take one of the tours that will take you to Cameron Highlands for two to three days.
You can drive there yourself, or you can take a local bus. Depending on how you travel there it's only three to four hours outside KL, so not too far to travel for a relaxing weekend break.
Genting Highlands – Genting Highlands is just outside Kuala Lumpur and is a mountain retreat. Mostly, however, its famous for the casinos and the outdoor theme parks. If you're a gambler, you'll love Genting Highlands for a weekend break as you can partake of black jack, poker, slot machines – anything you wish. If you have kids with you, they'll love a weekend away at Genting Highlands as there are tons of theme park rides, rollercoasters, and shows.
Getting to Genting Highlands is easy as driving up into the mountains for only one hour, or taking the Genting Skyway, a famous cable car.
Port Dickson – Port Dickson is another wonderful place only an hour outside KL (90 kilometers) and perfect for a weekend break. Port Dickson is famous for its beautiful beaches, clean coastline and for having some of the best water sports in Malaysia. Sailing, water skiing and parasailing are all available here as well as scuba diving. Port Dickson also has an Ostrich Farm and several museums that are interesting places to visit. Kids especially will love the Ostrich Farm.
Take the North-South Expressway and drive to Port Dickson or take one of the tours or many local buses.
Putrajaya – Putrajaya is just an hour south of Kuala Lumpur. It's the new federal administrative capital of Malaysia, so there are a lot of government buildings here but, there are also interesting things to see and do on a weekend break away from KL. Visit the Putra Mosque, which is the main mosque of this area. It sits on a manmade lake and is very beautiful both inside and out.
You can also visit the Residence of the Prime Minister, the Putra Bridge and one of the rubber plantations in this area, where you can see from the rubber-tapping stage of production to the final rubber product.
More of a weekend trip for adults rather than kids; it's still interesting and a different experience completely than Kuala Lumpur.
These are just five of the best weekend trips out of Kuala Lumpur. There are many more as Kuala Lumpur is in an ideal location for traveling around Malaysia. Malaysia too is very inexpensive so most of these weekend trips will not break the bank.