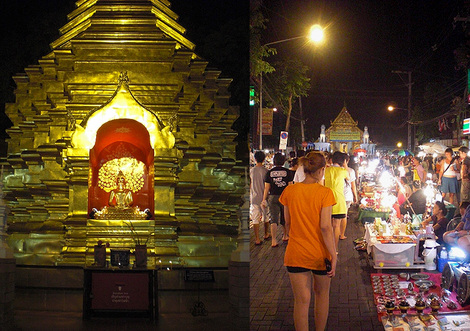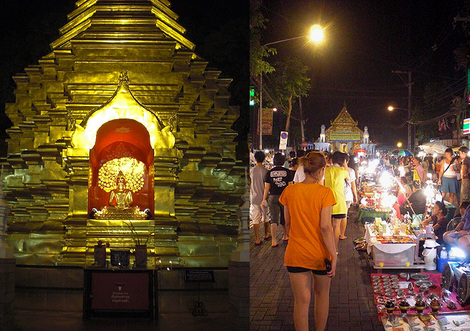 One of the best shopping experiences in Chiang Mai is the Sunday Walking Street Market. More than 5,000 street stalls are set up on various pedestrian-only streets late on Sunday afternoon, then this shopping extravaganza begins. With so many street stalls and booths to buy from at the Walking Street Market, many visitors to Chiang Mai are overwhelmed. They don't know the best bargains, the must-have items or the best quality pieces, or if they should bother buying anything. The answer to that is simple. Yes, you should, and here are the best, the highest quality and the cheapest things to buy.
Hilltribe Handicrafts – Hilltribes are ethnic tribal people in Thailand like the Hmong, the Lasu and the Karen, who emigrated to Thailand from China and Tibet, often several hundred years ago. They brought their traditional handicrafts with them, and they've been making products from them ever since.
While at Chiang Mai's famous Night Bazaar you'll get lots of typical hilltribe crafts, much of it junk and all made for tourists, at the Walking Street Market there's a lot more of the real thing. On my last shopping trip there, I picked up handmade tapestry pillow cases, children's toys, a little puppet, bracelets, carved wood ornaments, handmade metal bowls and some gorgeous knitted gloves.
There are hilltribe handicraft stalls the full length of the Walking Street Market selling either a vast selection of things or specializing in just one or two. Much of what they sell are authentic hill tribe crafts as they're more for the Thai market than the tourists. Prices are inexpensive (the two handmade tapestry pillows I bought were only 300 baht ($10)), and you can bargain.
Original Artwork – I collect Thai artwork, mostly contemporary but some traditional, so I was in seventh heaven on my first trip to Chiang Mai's Walking Street Market. Literally hundreds of stalls sell original artwork, whether from students still in high school or university or local independent Thai artists.
Prints, lithographs, oil paintings, watercolors, acrylics – traditional Buddhist paintings, modern Picasso-style work – the Walking Street Market has everything and you wouldn't believe the prices. I bought a pair
of original modern art paintings in acrylic (12″ x 12″) – for one, the cost would have been 250 baht ($8), the pair cost me 400 baht ($13.30).
Prices for original artwork starts at 100 baht ($3) for tiny watercolors and goes up to thousands of baht (hundreds of dollars) for large paintings from established Thai artists.
Costume Jewelry – I love costume jewelry and own hundreds of pieces, which is why on my last trip to Chiang Mai's Walking Street Market I bought 35 pieces – rings, bracelets, bangles, pins, necklaces – hundreds of stalls sell it and most of it is handmade by local jewelry makers.
Expect to pay as cheap as 20 baht (75 cents) for a beaded ring and between 30-100 baht ($1-3) for bracelets, necklaces, bangles and pins. Styles vary from traditional Thai jewelry your mother would love to completely bizarre modern jewelry your teenage daughter, or you, would adore.
Handmade Paper Products – Thailand is world famous for its handmade paper products and Chiang Mai is one of the centers of the craft. Mulberry paper, complete with pressed flowers and leaves, is popular and is used for everything from note cards to photograph frames.
Look for photograph albums covered in handmade paper, postcards, envelopes, handmade paper boxes, gift bags, gift tags, wrapping paper, wine bags and lots more. You'll even find handmade paper products made out of elephant dung – and no, it doesn't smell.
Ceramics – An avid collector of ceramics, I buy many handmade pieces in Chiang Mai but particularly at the Sunday Walking Market.
Vases, ornaments, photograph frames, boxes, cups, saucers, plates, mugs, serving dishes, Christmas ware, bells, animals – so many things in handmade ceramics, and they're all simply gorgeous.
Expect to find pieces as cheap as 40 baht ($1.25) and as expensive as 2,000 baht ($66). You can bargain, the more pieces you buy at the same stall, the cheaper everything is, and don't worry they'll wrap them beautifully so they won't get smashed on your way home.
Location of Chiang Mai's Sunday Walking Street Market – The market is every Sunday afternoon, officially opening at 4pm, and continuing on until midnight. It's set up on the full length of Ratchadamnoen Road,
which is closed off to traffic, and also on several side streets off the main road.
The easiest way to get to it is to take a songtaew (the red pick-up truck taxis all over Bangkok) and ask to go to Thapae Gate. The beginning of the market is right here. At least 30,000 people pass through it on a typical night, so you can't miss it.