If you spend any time in Bangkok, Thailand, one thing you'll find yourself eating a lot of is noodles. Thais, like most other Asians, love noodles and eat them for breakfast, lunch and dinner. Noodles are available all over Bangkok, from street stalls to low-end restaurants and upscale eateries, but these are some of the best noodle shops in Bangkok.
Hachiban Ramen – Home of the bowl of ramen noodles, Hachiban Ramen is a Japanese noodle chain with shops all over Bangkok. One of the best noodle shops in Bangkok, it's also the most popular as the prices are cheap (around $2.20 for an enormous bowl of noodles plus vegetables and meat) and the noodles really are delicious.
Try the noodles with stir fried vegetables and pork in pork broth – incredibly delicious. Hachiban Ramen has locations all over the city, with the most popular shops at MBK Mall, Central World Plaza and many Tesco Lotus locations. Just look for the yellow oval logo with a red number 8 inside it, and that is a Hachiban Ramen shop.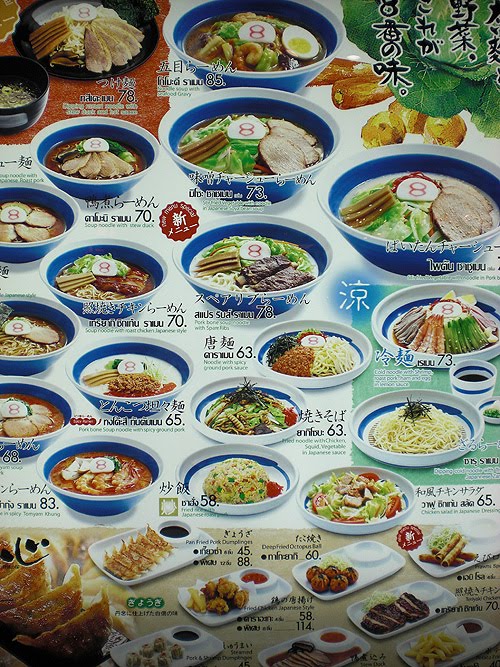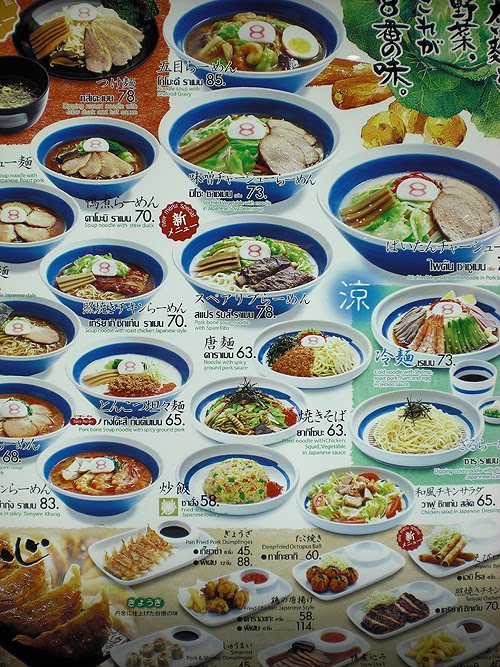 Tasiam – Tasiam is another chain noodle restaurant and one of the best noodle restaurants in Bangkok. This time it's Thai, and is easy to spot as it has a huge traditional Thai boat in the window, with chefs standing inside it cooking.
The boat is there because Tasiam is famous for what, in Thailand, are called 'boat noodles'; bowls of noodles that used to be cooked and sold from boats on the rivers and canals of Thailand.
Here, try the traditional boat noodles in soup or one of their other 'dry' noodle dishes, noodles served without soup but usually with meat and vegetables and often fried. There's a Tasiam in Siam Square with another great location in Central World Plaza mall in Bangkok.
Sukhumvit Soi 38 Street Stalls – Another of the best noodle shops in Bangkok is actually a street stall on Sukhumvit Soi 38. Known by local Thais as one of the best places to eat street food
in the city, Sukhumvit Soi 38 is also famous for its amazing bowls of noodles with pork. Fresh, succulent and cooked while you watch, you're guaranteed these noodles will be delicious.
Finish it off with a bowl of the popular mango and sticky rice (this soi has the best) and you'll just about roll home. Sukhumvit Soi 38 stalls are open late-night, with closing time around 3-4am. Take a taxi to Thong Lor BTS station after midnight, and the skytrain before, and you'll find Sukhumvit Soi 38 stalls just at the bottom of the stairs.
Prachaniwet 1 – For the life of me, I have no idea what the name of this noodle shop is but it's one of the best in Bangkok and that's a fact, as Thais from all over the city come to eat here. Prachaniwet 1 is a major road in northern Bangkok, famous for being the location of Wat Sam-ee-en Aree, one of Bangkok's largest temples.
To get to the noodle shop, take a taxi to Prachaniwet 1, arriving at the south end with Wat Sam-ee-en Aree on your right hand side. Drive up the street, past the enormous Bonne Marche market on your left hand side. Through the traffic light and on, until you see a 7-11 on your left. Get out at the 7-11, and the noodle shop is directly across the street in the small side street (right hand side of the street).
Part of it is open air, part is inside in air conditioning. This shop cooks some of the most amazing pork noodles in the city – so much so, I travel more than half an hour just to eat them.
Plus, a bowl of noodles and an iced Thai coffee is only 49 baht ($1.51) and you will be absolutely stuffed to the gills afterwards.