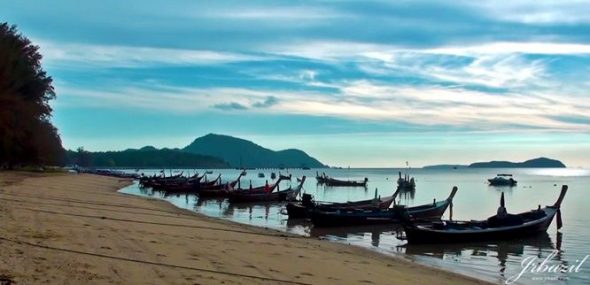 My favorite place to hit the beach in Thailand is the country's largest island, Phuket. Famous for its pristine white sandy beaches, clear blue ocean, friendly people and fresh seafood, Phuket is also popular for its beautiful boutique hotels.
Not being a fan of chain hotels, I stay in boutique hotels all over Thailand whenever possible, but Phuket is home to my favorites. They really are Thailand's most beautiful and best, and for inexpensive prices too.
Sugar Palm Karon Resort Hotel – I've stayed all over Phuket but always seem to end up back at Karon Beach. One of the most beautiful beaches on the island, Karon has superb restaurants and cafes, great shopping and a laidback nightlife. It's also home to one of the best boutique hotels on Phuket – Sugar Palm Karon Resort Hotel.
From the outside, Sugar Palm Karon Resort Hotel doesn't look like a boutique hotel as it's rather large. Get inside though and the delightfully friendly staff shows you otherwise. The Sugar Palm Karon Resort Hotel has 108 contemporary guest rooms, many with views over the pool, and all with satellite TV, DVD player, refrigerator, coffee and tea making facilities, internet and a lot more.
The hotel has a spa, a sundeck, the prettiest pool and everything designed in a high-tech contemporary style. Plus, everything at Sugar Palm is squeaky squeaky clean, which suits this clean freak no end. For pretty pictures of Sugar Palm Karon Resort Hotel, check out their website.
Golden Tulip Mangosteen Resort and Spa – The first time I saw this boutique hotel, I thought I was in the wrong place. That anything this magnificent and this luxurious could be thought of as a 'boutique hotel' and at less than $100 a night, on Phuket, I simply couldn't believe it.
The Golden Tulip Mangosteen Resort and Spa is located on a quiet hillside overlooking the ocean and Phuket Town. It's quiet, and a wonderful place for a relaxing vacation without all the noise you get in other areas of Phuket. The hotel is made up of the most beautiful villa guest rooms with Jacuzzi, internet, cable TV, coffee making facilities, hairdryers and more. Some overlook the swimming pool, others lush gardens.
The hotel's Mangosteen Restaurant is superb, they have an excellent wine cellar, and a spa offering Asian and Western spa treatments.
Manathai Resort Hotel – One of the most beautiful boutique hotels I've ever stayed at, the Manathai Resort Hotel in Surin Beach, Phuket, is small but lovely. From its lovely swimming pool to its Thai-style guest rooms with traditional Thai furniture and pretty accessories, you just feel right at home here.
Manathai Resort Hotel's guest rooms have high-speed internet, cable TV, coffee making facilities, mini bar and robe and slippers. Rooms are spacious and airy and some overlook the pool.
The hotel also features a wonderful restaurant, a poolside bar, a beach club, a pretty breakfast room where you can relax over a quite delicious breakfast every morning, and 24 hour room service. Manathai Surin Beach is one of two Manathai boutique hotels. The other, and another boutique hotel I've stayed in, is in Chiang Mai.
Rates are inexpensive and they often have special package deals available on their website.
More Information:
Golden Tulip Mangosteen Resort and Spa