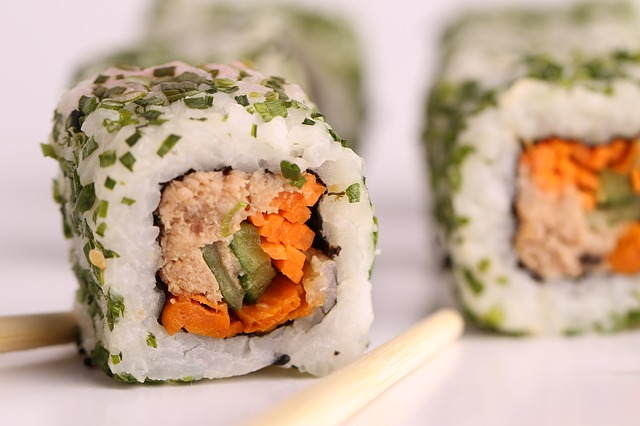 There are some excellent sushi restaurants in Bangkok, Thailand with cheap prices for superb Japanese food
Sushi, is one of the most eaten foods in Bangkok, Thailand. With huge lines at almost every one of the hundreds of Japanese restaurants in Bangkok for lunch and dinner, it pays to find out which restaurants serve the best sushi and get there early. These top Japanese restaurants serve the best sushi in Bangkok, so make sure you try these first.
Oishi Grand – One of the best Japanese and sushi restaurants in Bangkok, Oishi Grand is the upscale version of the typical Oishi restaurants. There is only one Oishi Grand in Bangkok and it's on the second floor of Siam Discovery Center.
The restaurant is an all-you-can-eat buffet with just about every sushi you can think of, plus jumbo shrimp, soft shell crab, steak, tonkatsu, noodles, fresh fruit and lost more. Expensive at around 850 baht per person ($25) but well worth it. Tel: 02-658-0222-3
Kikusui – First opened in Bangkok in 1969, Kikusui originally served authentic and traditional Japanese food. Nowadays, Kikusui is a Japanese fusion restaurant with some of the best sushi in Bangkok.
Try the Nigiri Sushi, one of the assorted selection plates or a Japanese set that comes with sushi. Almost all the fish at Kikusui is flown in from the famous Tsukiji fish market in Tokyo, so you can guarantee it's the best. Kikusui is on the first floor of Harindhorn Tower on Sathorn Nua Rd, close to the Australian Embassy. Tel: 02-266-3083-4
Fuji Restaurants – Fuji is a Japanese chain restaurant with more than 40 branches all over Bangkok and 20 more outside Bangkok. T
he menu here is cheap and absolutely enormous with lots of ways to get your sushi. In a bento box, in a Japanese set with other Japanese foods, you can order the sushi you like on separate small plates, or get a roll sushi set that comes with miso soup and pickled Japanese vegetables. Tel: 02-636-1100.
Sushi-CYU – Sushi-CYU has an enormous sushi counter with all sushi served to traditional Japanese taste. Here too, the seafood is flown in from Tsukiji fish market in Tokyo. Try the Nigiri Sushi, the Chef's Choice Sashimi, Giant Clam Sashimi or the Tuna or Octopus Sushi. The Chef's Choice plates start at 2,000 baht ($60) and go up to 3,000 baht ($95), but the sashimi and sushi is wonderful.
The restaurant also serves just about the best Japanese barbecue in Bangkok. Sushi-CYU is in All Seasons Place, near the Conrad Hotel on Wireless Road in Bangkok. Tel: 02-251-1995
Thais love Japanese food and it's the second most popular food in Bangkok after Thai food. That's why most of the Japanese restaurants in Bangkok not only serve extremely fresh fish, but many of them also fly it in from Japan several times a week.
If you're a sushi lover and want to try authentic Japanese sushi in Bangkok, you can't go wrong with these top Japanese restaurants.