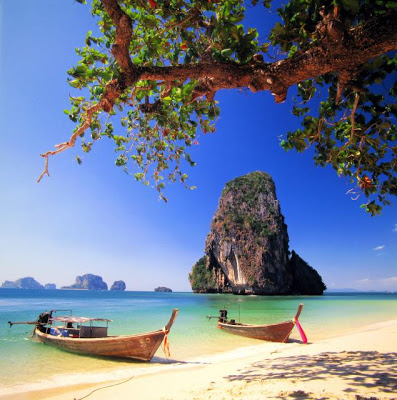 Thailand's more than 250 islands are popular tourist destinations for tourists from all over the world. Thais, too, often travel down to Thailand's tropical waters to take vacations on a Thai island. With so many islands to choose from, what do they have to offer, which of Thailand's islands are the best and why?
Phuket – The most popular Thai island and the largest, of course, is Phuket. Just a short flight from Bangkok, you can fly directly into Phuket's airport, hop in a taxi and be on the beach in less than two hours. Phuket's white sandy beaches, blue clear ocean, world-class scuba diving and water sports, top restaurants, hotels and cafes attract tourists from backpackers traveling on a budget to the most affluent tourists staying at five star resorts.
For one of the nicest Phuket destinations, check out Karon or Kata beaches – plenty to do, still relaxed and chill, yet only a few minutes by bus to more bustling areas like Patong. With hotel prices on Phuket as cheap as $25 a night for a 3-star hotel, you can't beat the cost either.
Koh Chang – Still one of the more undeveloped islands, Koh Chang is extremely popular with backpackers and budget travelers.
On Koh Chang, you can snorkel, swim, take a jungle hike, visit one of the beautiful temples, a local market or, at night, enjoy one of the islands beachside restaurants, often replete with fire dancers and live music. Koh Chang has budget accommodation as low as 200 baht ($5.50) a night, or five star hotels as high as a few hundred dollars a night, with a lot more in between.
With unspoiled beaches that have none of the enormous hotel chains some of the other Thai islands do, Koh Chang is particularly wonderful for those who want a presssure-free vacation in an unspoiled place.
The easiest way to get there is to get a tour package from a Bangkok travel agent (the ones on Khao San Road have many packages), that will include a bus trip and the boat to get you across to the island.
Koh Phangan – Easily the most popular Thai island with the younger crowd, Koh Phangan is famous for its Full Moon Parties, that are held every month. If you're looking for a relaxed, laid back island with mostly locals and few tourists, then Koh Phangan is not for you as it's loaded with western 20-somethings having the time of their lives.
But, if you just want to come to Thailand, drink a little, enjoy live music, dancing and have a little fun, Koh Phangan is for you.
Just be warned, the Thai authorities have recently started targeting partiers on Koh Phangan for illegal drug use and are throwing people in jail, regardless of how little drugs they actually use. So, where Koh Phangan was once a place where people turned a blind eye to a couple of tokes of pot, it's not anymore.
For accommodation, there are many beachside bungalows for a few hundred baht a night, or if you want to really live it up why not stay at the Panviman Resort.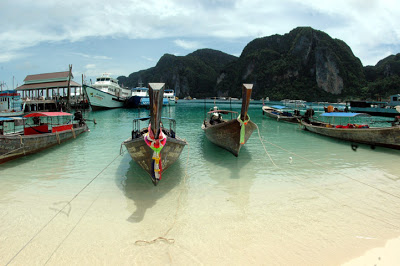 Koh Phi Phi – Virtually destroyed during the Asian tsunami a few years ago, Koh Phi Phi has miraculously revived itself.
Not as charming as before, as many of the independent businesses that made it so unique were washed away, Koh Phi Phi is now much more full of chain hotels and upscale resorts, but it is the best Thai island for the family as the swimming is just about the safest in Thailand.
Only a small place, I personally wouldn't spend more than a couple of days on Koh Phi Phi, but for a laidback vacation on one of the most beautiful islands in the world (made famous in the movie The Beach), Koh Phi Phi is the place.
With more than 250 Thai islands, it is difficult to choose the best as they all have something to offer.
That is why I say also check out Koh Tarutao (extremely underdeveloped still), Koh Lipe (famous for its rockclimbing) or Koh Samui (the second most popular Thai island to Phuket for tourists).