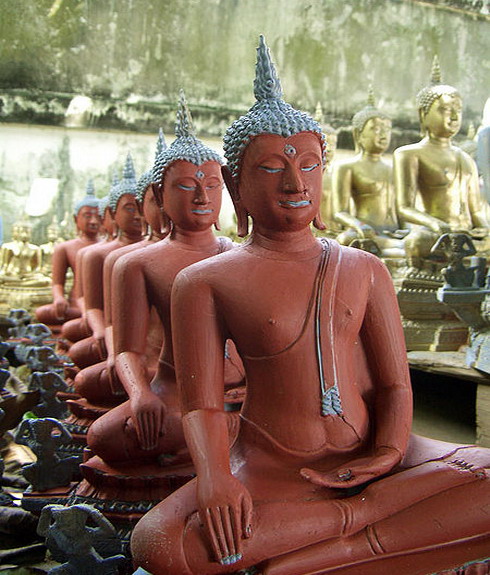 Phitsanulok is a southern Thai city that's been around for more than 600 years old. It's historically important as it was the birthplace of King Naresuan, as well as once the capital city of Thailand, so it offers interesting historical sights as well as modern day attractions. To get to Phitsanulok, you can take the approximately nine-hour train ride, or fly into Phitsanulok airport. Just make sure, when you do, you don't miss visiting these must see and do places.
Sergeant-Major Dr. Thawee Buranakhet Folklore Museum -If you enjoy unusual musems, you can't miss this one. Not only does the Sergeant-Major Dr. Thawee Buranakhet Folklore Museum in Phitsanulok have a fascinating name, its exhibits are quite charming too, even though its name is a little odd.
The museum is a private museum located in a gorgeous building with a traditional Thai architectural design. The museum was set up to showcase a large collection of Thai folk art and artifacts, ceramics, pottery, basketware, ancient fishing implements, and agricultural equipment. But, it's not boring. You'll see a typical old wooden classroom that millions of Thais were once educated in, a full-scale kitchen and living quarters, and an old-style Thai house. Wander the grounds too. They're lovely.
Wat Phra Sri Rattana Mahathat -One of the oldest temples in Phitsanulok, if you see visit any temple while you're in the city, this one is the must see.
Wat Phra Sri Rattana Mahathat, also known as 'Wat Yai' or 'The Big Temple', was built in the mid 1300s and is somewhat of a symbol for the entire city of Phitsanulok. It houses one of the most famous gilded gold Buddha statues in Thailand (see photo), and is also known for its beautifully ornate (and massive) temple doors.
Don't miss the museum on the temple's grounds either. It has an excellent collection of artwork, The Buranathai Buddha Foundry – One of Phitsanulok's most famous craft centers, The Buranathai Buddha Foundry makes hundreds of Buddha statues every year. The statues are made of bronze, so they're cast instead of carved, but it's fascinating to watch this being done (various craftsmen demonstrate the different steps involved in finishing a large Buddha statue), and you can also buy a Buddha statue — large or small. at the foundry's gift shop. They'll even arrange the shipping for you, no matter which country you live in. Open Wednesdays thru Sundays.
Phitsanulok Night Market – Whether you're an avid shopper or just enjoy experiencing an authentic part of a different culture, the Phitsanulok Night Market is a must do fun place to spend the evening.
Start off with dinner, either by choosing several 'snacks on sticks' and browsing the market stalls while you eat them, or by sitting at one of the many small street stall restaurants and ordering a couple of Thai. The local som tam (spicy papaya salad) is excellent, as are the curries. Once you've eaten, buy an iced coffee and set off on your shopping.
Look for Thai handicrafts from the local area, cheap t shirts, jeans, and other clothing, bags, belts, candles, handmade paper products, lamps, artwork and more. Bargain at the stalls, and don't miss the sellers who sell from blankets laid on the sidewalk. These are often your best bet for not only cheap Thai products, but also some unusual finds.