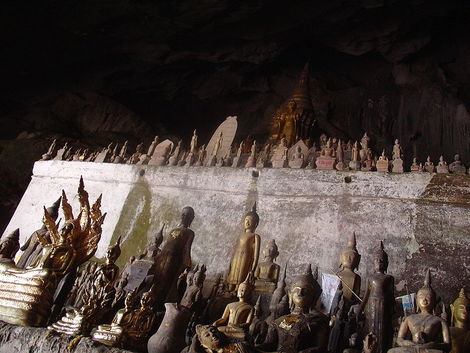 Luang Prabang is the former capital city of Laos and also a UNESCO World Heritage Site. So, it should be no surprise that it has so many unique and exotic things to see. Famous for its many temples and monasteries, Luang Prabang also has natural beauty, as well as a new move towards opening more art galleries, trendy cafes and boutiques.
It is a popular vacation destination for Thais and for expats living in Thailand. That is why the city also has day trips and tours that are a must-do and see, if you want to learn about the real Luang Prabang culture and history.
Luang Prabang City Tour – There is a choice of a half-day or full-day city tour but, the full-day city tour is so much better value and you see more, it's well worth making a day of it.
The Luang Prabang City Tour starts out with a visit to Vat Visoun, a large stupa containing Buddhist relics, then on to a shrine and a short climb up Vat Phousi Hill for a beautiful view out over the city.
Before lunch, you will visit a famous weaving village, where you can see how traditional Laos fabrics are made. Lunch is at a Luang Prabang restaurant, close to the river and where you can try several traditional Laotian dishes.
In the afternoon, enjoy the National Museum, shopping at the Central Market, where you will find a lot of minority handicrafts, a village where handmade paper is made and, finally, watch the sunset from the banks of the might Mekong River.
The Luang Prabang City Tour is one of the city's best tours and begins around 8am with pick up at your hotel and ends at 6pm.
Zip Line Adventure and Jungle Elephant Ride – Zip lines are all the rage in Asia, as you not only get to have fun and adventure, most zip lines are in jungle areas where you'll see exotic flora and fauna and wild animals you've never seen before.
The Luang Prabang Zip Line Adventure is no different. You will be taken on a 30 minute drive outside Luang Prabang into the jungle. Here you'll be kitted out with all the safety equipment then spend the next couple of hours zipping from platform to platform in the canopy of the trees high above the jungle floor. Look out for monkeys and exotic birds too.
Afterwards, you can take a swim in a local waterfall, enjoy a relaxed Laos picnic lunch then, in the afternoon, take an elephant ride. What a fun way to spend the day.
Pak Ou Caves – The Pak Ou caves day trip is the most popular tour in Luang Prabang and, of course, one of the best.
You will be picked up from your hotel and transported to the massive Mekong River where you'll climb aboard a boat and take a two hour boat ride to the caves. The Pak Ou caves are famous as, for centuries, pilgrims have climbed to them and, once there, left wooden statues of Buddha. These statues, in many cases, are hundreds of years old, with more statues being added by new pilgrims every year.
On the way to the caves, you'll stop at a 'whiskey village', where you'll see how the locals make whiskey from fermented rice. After visiting the caves, you'll also enjoy an excellent lunch in the village across the river from the Pak Ou caves – and a unique way to see how the locals live.