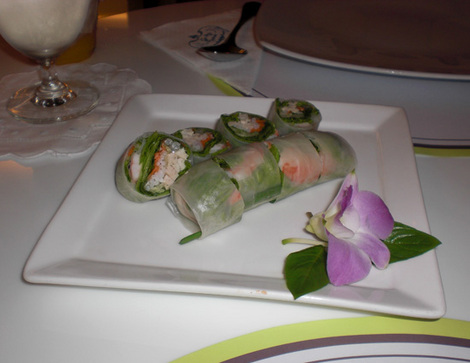 Surprising to some, Bangkok, Thailand has some of the best Vietnamese restaurants in the world. With chefs from Vietnam and using authentic Vietnamese ingredients, this healthy yet inexpensive food is one of the best cuisines to eat in Thailand. If you're a Vietnamese food lover, don't miss these best Vietnamese restaurants in Bangkok – you really can't go wrong.
Le Dalat – So popular in Bangkok, Le Dalat now has three Vietnamese restaurants in the city and all owned by the same Vietnamese-French family. Le Dalat has been open for almost 25 years and serves some of the best Vietnamese and Indochine food in Thailand. Not only is the atmosphere lovely (my favorite location is in a converted traditional Thai house), but the food is fresh, beautifully cooked and presented exquisitely. Try the Vietnamese crepes, fried fish, duck or Vietnamese bouillabaisse – unbelievable. And don't miss looking at all the photos and posters on the walls – a fascinating look at history. 14 Sukhumvit Soi 23, Sukhumvit Rd, Bangkok
Dao Vien – Dao Vien serves what was once considered Royal Vietnamese food. All servers and staff at Dao Vien are Vietnamese, which gives the restaurant a completely authentic air, and the food is spectacular. Their traditional Vietnamese spring rolls are, I think, the best in Bangkok, you shouldn't miss the Vietnamese pancakes or the pork balls, and make sure you order one of their many salads – some spicy, some not, but all fabulous. At around 600 baht ($17) per person for an average meal and drinks, it's slightly more pricey than other Bangkok restaurants, but well worth it. 118 North Sathorn Road, Bangkok
Thien Duong – At the Dusit Thani Hotel in Bangkok, Thien Duong is in a Vietnamese-style restaurant with dark wood chairs and tables but is still bright and airy because of the enormous glass windows. Don't miss the fried fish, Vietnamese spring rolls, one of the six or seven soup choices, and the deep fried prawns. The best part of the whole meal at Thien Duong though (and there are so many good parts!) is the dessert. If you love dessert, you cannot miss the banana fritters with ice cream – it was worth my aching stomach afterwards. Dusit Thani Hotel, 946 Rama IV Road, Bangkok
Miss Saigon – The more westernized name will tell you immediately this is a more modern style Vietnamese restaurant than the others, plus its in south east Asia's largest mall, so definitely ultra modern, but it is still excellent. With their fish dishes, pork balls, Vietnamese pancakes and soups, Miss Saigon serves delicious Vietnamese food in a location that's easy to get to. The staff is lovely too. Central World Plaza Mall, near Chidlom BTS sky train station.
Vietnamese food is trendy in Bangkok at the moment, so you'll find new Vietnamese restaurants popping up all the time. Don't miss these four though – they'll satisfy anyone's taste for perfect Vietnamese cuisine.