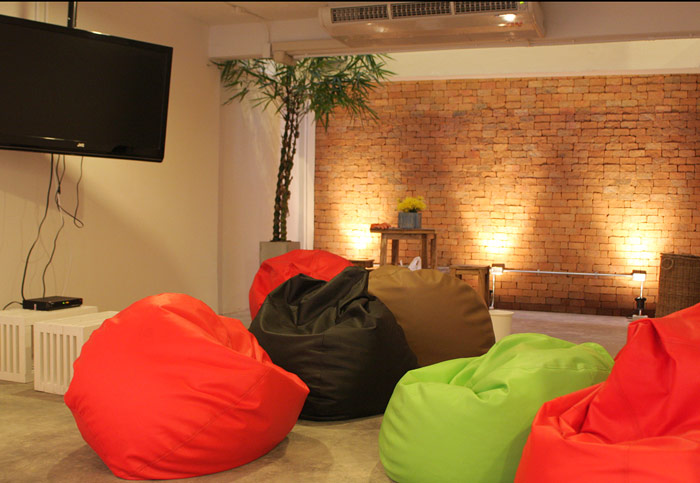 If you prefer to stay in affordable, cheap accommodation on a trip to Bangkok, then you must stay at one of Bangkok's best youth hostels.  For budget travelers concerned about cost, they are just about the best options in the city. Plus, many of the best youth hostels in Bangkok today are a far cry from the basic accommodation you used to get years ago. Now, you'll find comfortable beds, spotlessly clean rooms, TV rooms, fully-equipped kitchens, cool cafes and restaurants, bike rental facilities, Wi-Fi internet and much more.
But, if you're looking for a cheap, cool and fun place to stay, you must start with these three Bangkok youth hostels – they are just about the best options the city has to offer.
HQ Hostel – An upscale hostel in downtown Bangkok, you couldn't ask for better located accommodation than HQ Hostel. Right off Silom Road and three minutes walk to the BTS skytrain station, malls, restaurants, cafes and bars, staying at HQ Hostel you could get away with never leaving a three block area. There's so much to do here.
At HQ Hostel, you'll find dorm rooms with bunk beds in various sizes, or private rooms with double bed that sleep two. Room rates for a bunk in a dorm begin at 380 baht a night ($12.85) and for the highest-level private room with en suite bath, expect to pay 1,700 baht ($57).
HQ Hostel is one of Bangkok's best hostels for a reason – it's packed with just about any facility or comfort you could ever want. Free Wi-Fi internet, free individual lockers for your valuables, free pillows, linens and duvets, free satellite TV and free use of a small library. The hostel also brews its own house-blend of coffee and, yes, it's free too.
There's even a laundry service, Wi-Fi internet computers in the lobby, a sports bar with beer, and an entertainment room.
Check out the video on their website to see just how awesome this hostel really is. You will absolutely love it.
Suk 11 Hostel – Suk 11 Hostel is one of the best and most popular in Bangkok due to its fabulous design, comfortable and clean rooms, excellent staff and inexpensive rates.
At Suk 11 Hostel, you'll get a bed or a room in a traditional Thai atmosphere. Wooden houses, cute little alleys to get to your room and old-fashioned brick buildings, hide completely modern rooms that are clean and comfortable.
There's a choice of single room, double, triple or family rooms and with rates beginning at only 500 baht ($16.50 a night) for a single room, you can't go wrong here.
Suk 11 Hostel has a stellar restaurant that serves typical food backpackers love (not Thai-taste but mild for westerners). There's also an internet cafe, a laundry and TV and DVDs available.
Lub D Hostel@ Silom – Lub D @ Silom (not the location at Siam Square, which is more expensive) is an upscale hostel that offers top-of-the-line hostel accommodation for a still cheap price.
At Lub D Hostel @ Silom, you'll find dorm rooms and private rooms, all with comfy and clean beds, and shared bathrooms. Private rooms have iPod docks, safe deposit boxes and queen sized beds and some have private baths.
The hostel has a nice cafe and restaurant, a laundry room, Wi-Fi internet, an entertainment area, and is located close to Chong Nonsi sky train station, so it's easy to get all over Bangkok from here. With rates beginning at only $18.50 a night for a bed in a dorm room, you'll still have plenty of money left over to really see Bangkok.