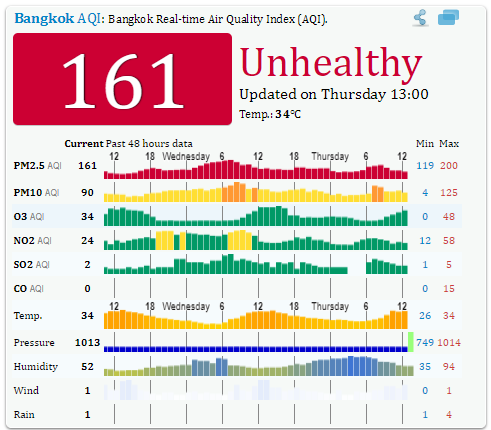 Toxic Bangkok air pollution threaten Bangkokians' health
As toxic Bangkok air pollution levels worsen even more today, 39 areas of the city are now affected by unsafe levels of PM2.5 particles. Bangkok's schools have been closed for two days, and several city universities may cancel classes as well.
As if that news was not bad enough, the Thai Pollution Control Department (PCD) has announced they expect toxic Bangkok air pollution levels to remain until February 4th at the earliest, and possibly even later than that.
The PCD takes readings throughout each day and, as of early yesterday morning (Wednesday), many areas of Bangkok were found to have even worse levels of PM2.5 than the previous day.
These areas include Rama III and Charoen Krung roads in the Bang Khor Laem district, Pahonyothin Road in Bang Khen and Kanchanapisek Road in the Bang Khun Thian area of town.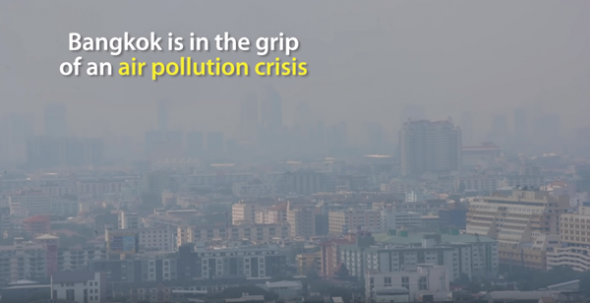 Bangkok Governor Aswin Kwanmuang asks for help from pollution experts
Meanwhile, Bangkok Governor Aswin Kwanmuang announced today he "does not know what to do" when it comes to solving Bangkok's air pollution problem.
Earlier in the day, Aswin had directed drones to spray water into the air above Bangkok in an attempt to decrease toxic PM2.5 particles. A method that has been scientifically proven to have little effect.
After being widely criticized for wasting time and money on a plan of action that would have no positive effect on pollution levels, Aswin announced he was inviting pollution experts to city hall for a meeting.
"All the experts out there, please come talk to me, give me suggestions. I'm the one dealing with the problem. I don't know what to do, that's why I have invited them, Aswin said. "Don't just put your suggestions out in the wind."
You have to admit, that move takes some courage on Aswin's part, and should be praised.
After all, instead of sitting in his office pretending he knows how to solve the problem when he obviously does not (he is not a scientist), he is asking people that may know to help.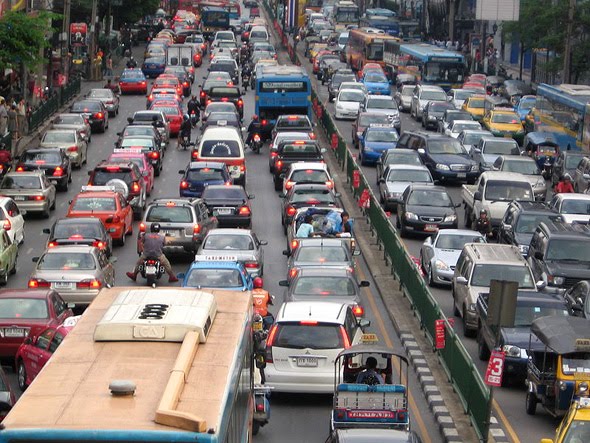 Meanwhile, Aswin has named Bangkok as a "disturbance control zone". This means any traffic suspected of emitting too high levels of emissions, those driving diesel engine vehicles and people burning garbage or vegetation will be targeted by police and soldiers.
For those found not adhering to local laws, penalties will be strict.
A possible jail term of up to three years and a fine of up to 25,000 baht will be levied for those burning garbage/vegetation, as well as for people who drive vehicles emitting high levels of smoke.
Construction sites will not be spared either, as owners of sites found causing too high levels of PM2. 5 to be emitted into the air will also face jail time and fines.
Prayut's odd-even number license plate system
As toxic Bangkok air pollution continues to worsen, Thai Prime Minister Prayut Chan-o-cha is considering enforcing an odd-even number license plate system in the Thai capital. This would allow specific cars to be driven on Bangkok roads only every other day, and would be dependent on the car's license plate.
For continually updating information about Bangkok's toxic air pollution, you can follow real-time updates at the Real-Time Air Quality Index website.
As you will see from the AQI's graphic above, air pollution levels across Bangkok today are still classified as 'unhealthy' in large areas of the city. The rest of the city is still 'unhealthy for sensitive groups' — children, the elderly and those with health problems.
Meanwhile, for more on why Bangkok's air pollution problem is so bad, watch the Euro News video below.
Read: Can General Prayut solve Bangkok's toxic air pollution problem?