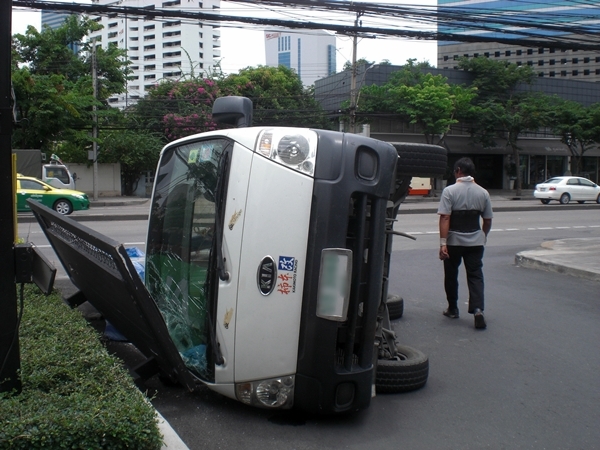 Many people will tell you traffic accidents in Thailand happen often. Weirdly, although I've lived in Thailand for 10 years and I'm out on Thai roads every day, I can count on one hand the number of Thai traffic accidents I've actually seen. Literally – less than five — just one motorbike accident and three car accidents in Thailand.
But, the other day on my way to Tesco Lotus on the back of a motorbike taxi, we turned the corner into the Tesco Lotus parking lot on Pahonyothin Road in northern Bangkok to be confronted with a pretty serious traffic accident, although quite funny too.
Apparently, the driver of the van had loaded it with panes of glass he was transporting from one place in Bangkok to another.
According to a Thai woman I spoke to at curbside, it hadn't dawned on him that the weight of the glass probably needed to be balanced, so he'd stacked it all leaning to one side. He came around the corner into the supermarket parking lot a little too fast, the van's heavy load pulled to one side and kept pulling — tipping over the van with the surprised driver still sat in it.
Nobody was hurt and nothing was damaged, except for the van driver's pride and a squashed Tesco sign, but Thais, who were out en masse from the local mini mall to take photographs, thought it was hilarious. I doubt the guy who owned the glass thought it was quite that funny, though.
Traffic accidents in Thailand. Sometimes they don't kill people, just hurt their egos a little bit.