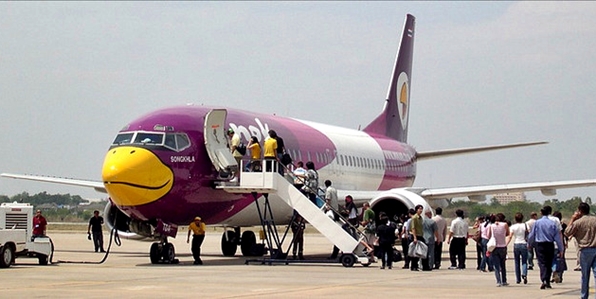 The island of Koh Pha Ngan is one of Thailand's most visited cheap backpacker places and budget destinations but, as Koh Pha Ngan itself doesn't have an airport, it's a huge hassle to get there from Bangkok so I've never bothered. But, a couple of months ago, I learned about Nok Air's new travel package of all-inclusive Flight plus Hi-speed Catamaran, which gets you to Koh Pha Ngan in just a few hours and I was sold.
Who is Nok Air? – For those not familiar with Thailand's low-cost carriers, Nok Air is a small but reputable low-budget carrier that flies to various destinations all over Thailand. Its flights are basic but extremely cheap and their service is good.
What is the Nok Air to Koh Pha Ngan Travel Package? – Until Nok Air started doing the Koh Pha Ngan travel package, getting to Koh Pha Ngan required taking a flight to Surat Thani, then finding a local bus to take you to the ferry for Koh Pha Ngan. From there, you had to rustle up your own ferry or local boat and, with ferry times not always convenient by the time you got there, getting from Bangkok to Koh Pha Ngan could be all day of a job.
Related: Which are the best low-budget airlines to fly from Bangkok to Phuket in Thailand?
Recently however, Nok Air instituted their own Koh Pha Ngan travel package. As inexpensive as just about every other Nok Air flight, it consists of a flight from Don Muang Airport in Bangkok to Surat Thani in Southern Thailand. From Surat Thani, you're put on a private air-conditioned coach that drives you to Tong Sala Pier.
At Tong Sala Pier, you board a high-speed catamaran (one of those cool two-hulled boats with a gap underneath it) and after a few minutes wait you're whisked away on a 45 minute high-speed boat ride that drops you off at Koh Pha Ngan. From start to finish, Bangkok to Koh Pha Ngan the entire trip, depending on which flight you take, takes from six to seven and a half hours. A far cry from the 12-15 hours by doing it yourself. Nok Air does two flights a day – a 7:15 am flight and one at 11:40 am.
How Much is the Nok Air Travel Package? – Like anything else Nok Air does, their prices are always budget. Currently on most days, the Nok Air Bangkok to Koh Pha Ngan travel package costs between 2,690 baht ($91) and 3,300 baht ($104) one-way, depending on which level of ticket you buy. This includes the flight from Don Muang airport to Surat Thani, the air conditioned bus and the high-speed catamaran.
The higher priced ticket is the Nok Plus level, where you can change your flights as many times as you want – perfect if you get to Koh Pha Ngan and love it so much you want to stay longer.
Don't forget, Nok Air is one of the few airlines that still flies out of Bangkok's old airport, Don Muang, and not the new airport, Suvarnabhumi. So don't book your flight then head off to Suvarnabhmi to catch it. The two airports are an hour and a half to two hours apart. You'd never catch your flight.