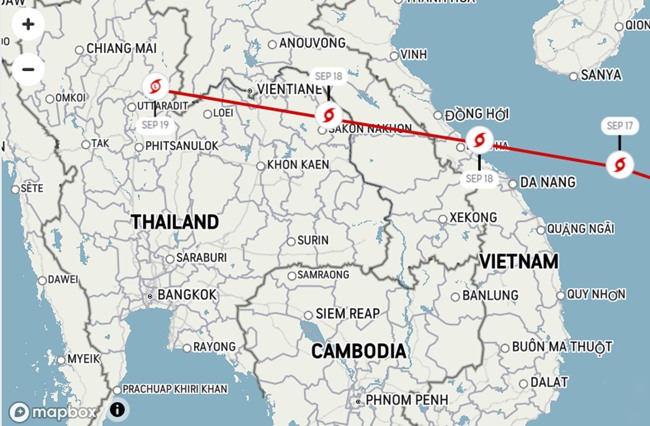 With Tropical Storm Noul heading for Thailand, the Thai Meteorological Department has issued a weather warning.
According to department chief Somsak Khaosuwan, there are several things you need to know about Tropical Storm Noul in order to keep yourself and your property safe.
What you need to know about Tropical Storm Noul
The category 3 Tropical Storm Noul is expected to hit Thailand as early as Friday morning. The Northeast of the country is the first place that should start feeling the storm's effects.
At 4pm on Thursday, 17th September, Noul was 460 kilometres west northwest of Da Nang, Vietnam and is moving at approximately 25 kilometres per hour.
The storm is expected to land in central Vietnam first between Hue and Danang, and then make its way into Thailand. It is projected to remain over Thailand from early Friday morning until late on Sunday evening.
The first hit area of Thailand will be the Northeast. Noul will then move to the North, Central Thailand, the East and then the South.
Sustained winds at the epicenter of Tropical Storm Noul are currently running at 80 kilometres per hour but could strengthen if the storm worsens.
Torrential rain is possible with strong winds and possible flooding and mud slides. Property damage could also be an issue due to flood water and high winds. Stay away from any flooded areas as drowning is a real threat.
Once Tropical Storm Noul hits your area stay indoors and, while you are traveling to shelter, keep away from trees, power lines and unstable buildings.
Be aware too, waves could be as high as 4 meters in both the Andaman Sea and the Upper Gulf. The Lower Gulf is likely to see waves around 2 meters high.The Thai Meteorological Department is thus warning all ships and boats to remain ashore until late Sunday evening.