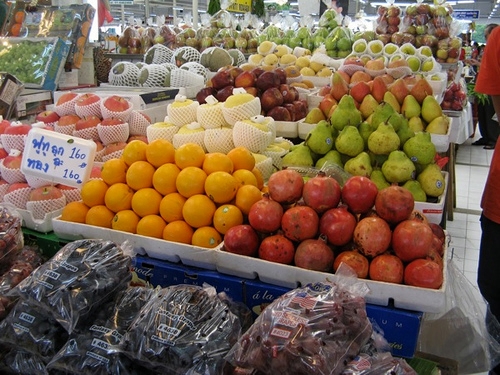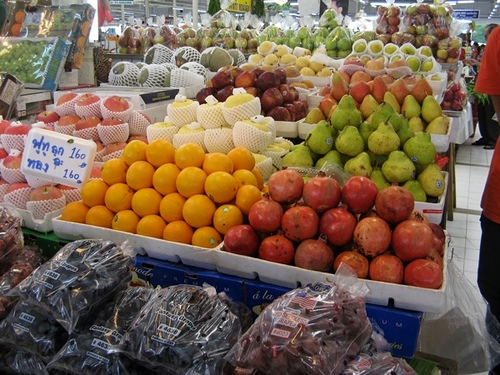 We've had several people ask us what is the typical cost of groceries in Bangkok, Thailand. Obviously, it depends on what you buy, how much imported western food you buy and, of course, where you buy it. Prices for food too have increased rapidly in the last few months, so grocery shopping in Bangkok is unfortunately nowhere near as cheap as it used to be.
For an average western-style supermarket, though, hopefully some of these typical grocery prices in Bangkok will give you some idea.
Milk for the equivalent of around half a gallon is 84 baht ($2.84) – it's not cheap.
Butter, for half a pound – 78 baht ($2.65)
Pack of 4 fruit yoghurts – 45 baht ($1.53)
Loaf of wholewheat bread (the cheap sliced stuff) – 36 baht ($1.22)
Carrots – 17 baht per kilo (59 cents)
Kale – 15 baht per package (50 cents)
Lettuce per head – 35 baht ($1.13)
1 Avocado – 49 – 60 baht ($1.65 – $2.04)

Mama noodles – (ramen noodles) 6 baht per packet (20 cents)
Cheese (very expensive as most is imported and Thai cheese is pretty bad) – anything from 170 baht to 390 baht per 200 grammes ) $5.76 to $13)
Cookies (cheap if you buy Thai brands) – 10-35 baht (33 cents to $1.10) per box
Toilet paper – package of 8 rolls – 40 baht ($1.33)
Box of tissues – 30 baht ($1)
Box of Kleenex tissues – 50 baht ($1.66)
Packet of sliced ham for sandwiches – 65 baht ($2.15)
Packet of six hot dog sausages – 55 baht ($1.86)
Can of tuna in oil or spring water – 38 baht ($1.22)
Small bag of rice (enough for family of 4 for a week) – 35 baht ($1.13)
Couple of pieces of chicken – 40 baht ($1.33)
One whole roasted chicken – 80 baht ($2.66)
Can of Coke – 15 baht (50 cents)
A frozen meal (Thai food) – 35-75 baht ($1.13 to $2.50) depending on brand you choose

As you'll see from these prices, food isn't that cheap at a Thai supermarket any more. In fact, I was blown away by how cheap food was in Spanish supermarkets when I was in Spain earlier in the year. About the same prices as Thailand, but the quality was much higher.
Yes, you can still live relatively cheaply in Bangkok, but nowhere near as cheap as you could only three or four years ago. But, if you shop when there are good sales and, if you shop at supermarkets that give you coupons for 50-100 baht off your next shop, you can keep prices lower.
The secret to do cheap grocery shopping in Bangkok is to only buy the luxury imported goods (cheese, good bread, chocolate, olives, olive oil etc) when there's a sale and stock up then. The rest of the time it can really add a big chunk to your grocery bill, particularly if you're buying it during every shop.