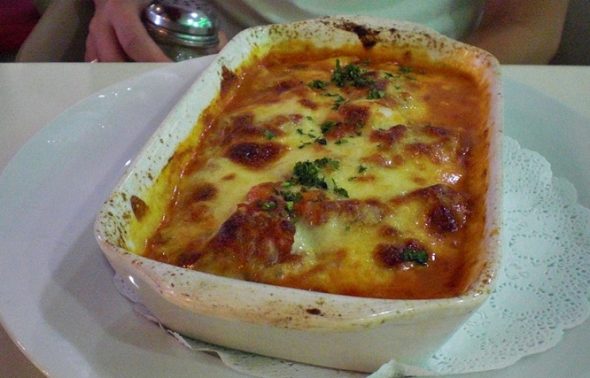 During my years living in Bangkok, Thailand, I have eaten at UCC Coffee at least a hundred times. UCC Coffee, or Ueshima Coffee Company is an Asian-brand coffee, with branches all over Thailand. I have always heard it prides itself on serving the best coffee so, frankly, have been surprised how truly awful UCC Coffees hot coffee drinks actually are.
Maybe it is coffee served to an Asian taste but out of the five times I've attempted to drink hot coffee at UCC Coffee, I have returned it every time. It truly is that dreadful. But, the food, the food, the food – the food is incredible, so well worth visiting.
UCC Coffee Locations in Bangkok – UCC Coffee was founded as Ueshima Coffee Company in Japan in 1933. Throughout the years, the company has opened branches in ten countries, with several branches in Thailand, where I live.
My favorite branch is at Union Mall, in northern Bangkok, across from Central Laprao and next to Pahonyothin underground train station. There's also another nice branch in Siam Center, on the ground floor, which is always busy, so get there early.

The Coffee Drinks at UCC Coffee – During my numerous visits to UCC, I've tried several cups of the UCC House Blend hot coffee, which has always been just about the worst coffee I've ever drunk. It's a Japanese drip coffee, so I'm not sure if it's how it's made, but every time I order it, it arrives at my table lukewarm and decidedly strong and bitter.
The latte I ordered last week was the same, far too strong and bitter, and the Blue Mountain coffee, a premium brand, is the worst.
UCC Coffee however does make excellent iced coffee drinks – the Ice Mocha Freeze is wonderful, as are the Iced Lattes. Once they add sugar, milk and ice, the bitter taste of the coffee is diluted, so it's nice. Just avoid any hot coffee drinks.
The Food at UCC Coffee – The first time I went to UCC Coffee, I was surprised that the menu was quite substantial. They serve both Thai and western food and both are delicious. If you enjoy a good sandwich, noodles, salads, rice dishes, a real cheesy lasagna, or a good American breakfast, you'll love UCC.
The last time I ate there, I ordered a toasted pork sandwich. When it arrived, it was stuffed with pork and had lots of vegetables and an unusual tangy sauce. Absolutely scrumptious.
My friend ordered a seafood lasagna, which was so cheesy you could smell it right across the table, and absolutely loaded with various types of seafood. I am ordering that the next time I eat at UCC – it was that good.
The staff at UCC Coffee is helpful, the atmosphere at each of their cafes is nice, and prices are cheap. For my pork sandwich, I paid the equivalent of $2.50 and my friend paid $3.20 for a seafood lasagna she couldn't eat all of, the portion was so big.
If you visit a UCC Coffee branch in Bangkok, Thailand, avoid the hot coffee drinks but order liberally from their food menu, and don't miss the desserts. They are excellent.