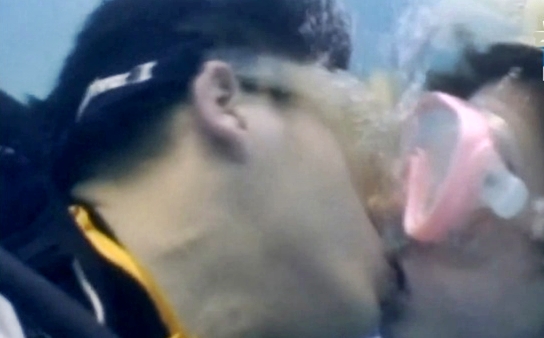 While many thousands of foreigners come to Thailand every year to get married, not very many decide to get married underwater. A couple of thousand, however, in the last 18 years have done — at least those who got married during the annual Trang Underwater Wedding Ceremony that takes place every year in Trang, Thailand on Valentine's Day.
This year was the 18th anniversary of the Trang Underwater Wedding Ceremony, with a number of couples deciding to get married under the ocean in a group ceremony.
It's not just an underwater wedding ceremony though. The happy couples also get to be involved in a parade, plant trees, and take part in a traditional 'water pouring ceremony' that's common in any Thai wedding — except their water pouring ceremony will take place under water.
Then, within a few minutes, they are pronounced man and wife and, well……at least try to kiss each other. A bit difficult with goggles and an oxygen tank, I would think!
If you'd like to take part in the Trang Underwater Wedding Ceremony in 2014, it's not too early to start preparations now. Contact Trang Chamber of Commerce at (075) 225-353 for more information or check out the Underwater Wedding website. I've heard it's a lot of fun.