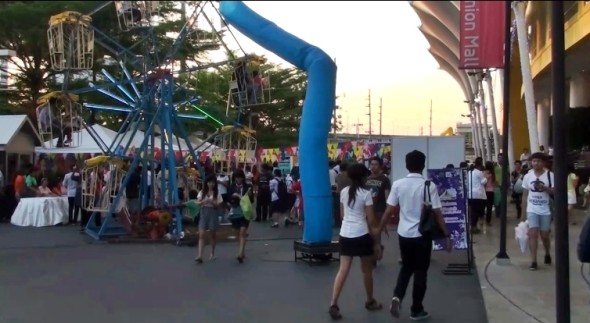 Union Mall opened in northern Bangkok, Thailand around four years ago. The first year, the mall was dismal. With eight floors, you'd expect something spectacular but, sadly, much of what you could find were half empty floors and closed store fronts as Union Mall didn't take off the way its owners obviously expected. Four years later, Union Mall seems to have found its identity and is now one of the busiest malls in northern Bangkok.
Location of Union Mall – Union Mall is in a superb location. Right next to the Pahonyothin underground station and across the street from Central Ladprao mall, it's not only easy to get to it's a wonderful addition to Central Ladprao as, most of its stores are cheaper and have a different type of item.
The Concept of Union Mall – When the mall first opened, the owners were trying for a traditional mall feel. Floor after floor of shop store fronts and market-style stalls stretched for thousands of square feet with store front space for more than 1,200 of them. Six months after opening though, you'd be lucky to find 100 stores open in the whole mall.
Then, some bright spark must have come up with the idea of forgetting the typical mall format (there was no point, as Central Ladprao right across the street already had that model sewn up). Instead, Union Mall suddenly became a huge mall dedicated to small market stalls on every floor, with a few traditional shops and restaurants around the edges. That's when it took off.
Not a year after this idea was put into practice, Union Mall was packed with tiny market stalls and thousands of Thai teens and young adults shopping. Union Mall is now one of the most popular malls in northern Bangkok, particularly for those under 30 years old.
Shops at Union Mall – The mall is known for two main things – clothing and accessories and computer peripherals and video games, and it sells boat loads of both.
On the first three floors of the mall there are over three hundred market-style stalls selling clothing, shoes, bags, jewelry, make up and accessories. Every day from 2pm on, this area is packed with Thai teens all looking for bargains and, with clothing starting at 100 baht per piece ($3), they're sure to find them.
On higher floors is where all the computer peripherals and computer games and gaming consoles are sold. If you're looking for a keyboard, computer cables, computer games, XBox games, PlayStation games and consoles, DVDs, CDs, CD-Roms and power strips, you'll find them here along with a lot more. Prices are inexpensive, quality is good and every seller will accept returns if what you buy doesn't work correctly.
Eating at Union Mall – The mall has a fair few cafes and restaurants with choices of noodles, pizza, Italian food, Thai food, American food, typical cafe and coffee shop offerings, fast food outlets and lots of small booths selling snacks and desserts. There's enough choice that most people will find something they like and with most of the restaurants and cafes being low-end in price but not quality, the cost is reasonable to. There's also an international food court at the end of the mall with many stalls to choose from.
Anchor Stores at Union Mall – Anchor Stores include a small Tops supermarket, a Wall Street language learning center and a Fitness First gym.
Union Mall has several bank branches, a couple of shoe shops, a printer, a photography studio, hairdressers, nail salons and other typical mall shops. The best time to shop at Union Mall is before 3pm as, between the hours of 3pm and closing at 10pm, it's crowded. Don't miss checking out the outdoor market next to the mall as well. You'll find some interesting shopping here too.
Check out the video of Union Mall skywalk too. It's always packed with people like this, every minute of the day.