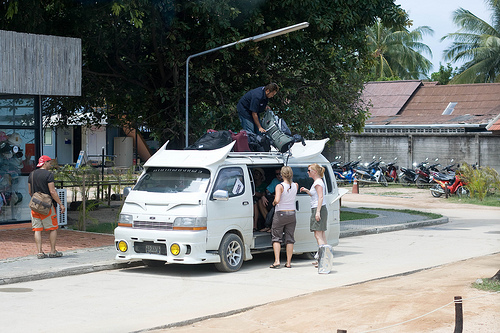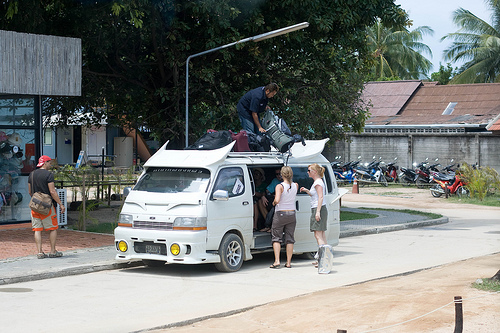 The 'Get Van Booking' app will make booking a van trip in Bangkok so  much easier
Are you one of the tens of thousands of people every month who take vans in and outside of Bangkok, but aren't too happy with the experience?
Come on, we've all been there. Stuck in a passenger van barreling down some Thai country road miles from anywhere, with a driver going far too fast, and passing in places it is much to dangerous to pass.
Apparently, after years of horrific accidents involving some of Thailand's vans, Thai police have finally decided to do something to try to improve the safety and convenience of taking them.
That something is a new mobile app called 'Get Van Booking' that has been launched by Bangkok police.
'Get Van Booking' is an app that is available in both Thai and English, and allows anyone who wishes to take a van outside Bangkok anywhere and anytime to book it using the app.
The app has just been launched so, at the moment, 30 routes are available for booking. Routes that go up to 300 kilometers outside Bangkok.
These routes are expected to increase, however, as the app gains in popularity.
As soon as you book your place on a van with the 'Get Van Booking' app, you get electronic notification on the app with an E-ticket with a QR code. You can also make a reservation, change it or cancel it up to two hours before the van departs.
You will also be able to find out the availability of each route via the app for the day you plan to travel, as well as get promotional rates on some routes that will not be available if you pay the driver direct.
Right now the app has a 4.2 out of 5.0 on the Google Play site rating system, which points to most people who have used it so far being happy with the result.
You can get more information on 'Get Van Booking' by downloading the app, of course, or by contacting them  at 02-6451823 from 9:00-18:00 Monday thru Friday, or via email — support@getvanbooking.com