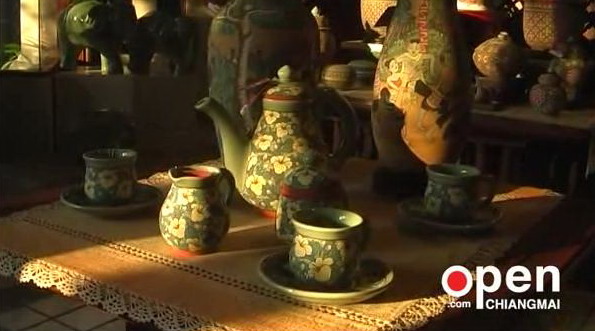 Whenever I get up to Chiang Mai in northern Thailand, I always come back laden down with ceramics and pottery. Known as being the best place in the country to buy Thai handicrafts, Chiang Mai has more pottery and ceramic shops than anywhere else I've ever been. One of the best places, of course, is Baan Celadon, a wonderful store that produces and sells some of the most stunning pieces of Celadon ware you've ever seen.
Open since 1989, it's by far one of the best Celadon producers in Chiang Mai. I've bought tableware, coffee mugs, and some quite lovely vases there  and, for the quality of the workmanship particularly, prices at Baan Celadon are still inexpensive.
Don't forget too, they ship items all over the world. So, if you buy something and really can't fit it in your suitcase, no worries. Just pay the shipping fee and they'll happily pack it and ship it off to your home. Shopping at Baan Celadon couldn't be any easier.
Look at their website for a lot more information about the company and their products and also watch OpenChiangMai.com's beautiful video. (Love the music on this video too).
Show Room Sankamphaeng: 7 Moo 3, Chiangmai-Sankamphaeng Rd., Sanklang, Sankamphaeng, Chiangmai 50130, Thailand
Tel : 66 5333 8288, 66 5338 4889-90