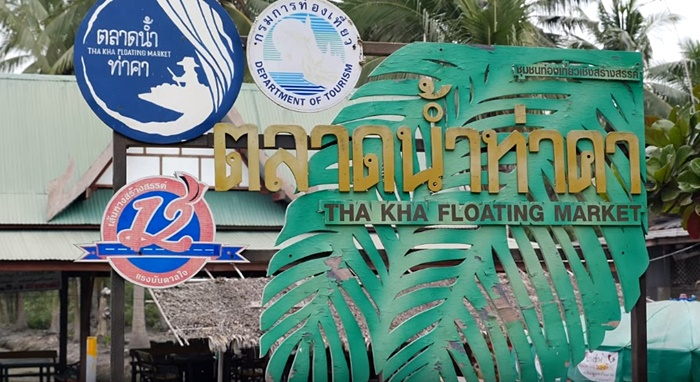 Tha Kha Floating Market is one of the best local markets still close to Bangkok
If you are ever looking for videos about authentic Thai food, I highly recommend subscribing to Mark Wiens' YouTube channel. Wiens is a Bangkok-based vlogger and writer that concentrates mainly on food, both for his very successful website Migrationology and for his YouTube channel of the same name.
And what I love about Mark Wiens' videos is he often goes to out of the way places all over Thailand to film Thai food being cooked on street stalls, at floating markets and in restaurants.
Places that you may never see if you stick to the typical tourist destinations.
Tha Ka Floating Market in Samut Songkhram
One of his latest videos is one filmed at Tha Kha Floating Market (ตลาดน้ำท่าคา), a small floating market in Samut Songkhram province that is frequented mainly by local Thais.
Here, you get a good look at authentic Thai food, tips on what to buy at some of the riverside stalls, and  even the boat vendors asking him questions about his then one and a half month old baby son.
And what that does is make you feel like you are almost there with him and his family as you watch.
As for Tha Kha Floating Market, it is a small floating market, with just a few river side stalls and a small number of boat vendors. But what it lacks in size, it certainly makes up for in the quality and variety of the food available, and the ridiculously low price (20 baht for a fried oyster omelette!)
Now I've been to this market once several years ago with some Thai friends, and it looks pretty much the same as I remember it. I also agree with Mark that, if you like fried spring rolls, the ones at Tha Kha are some of the best you will eat.
And, of course, do not miss grabbing some of the fresh honey or coconut sugar being sold at a couple of stalls. I bought a couple of jars of honey, because it's just about my favorite sweet thing, and it was delicious.
It was also cheaper than at many places in Bangkok and, as a lot of it comes from the vendor's own gardens, you're really supporting local independent businesses as well.
Watch Mark Wiens and family at Tha Kha Floating Market in the video below, then pop over to his channel and subscribe.
Where is Tha Kha Floating Market?
If you want to visit Tha Kha Floating Market, and you should as it's a fun cultural experience, you will find it at : Tha Kha, Amphawa District, Samut Songkhram 75110.
Directions are on this Google map, although you may need a Thai to help you figure it out.