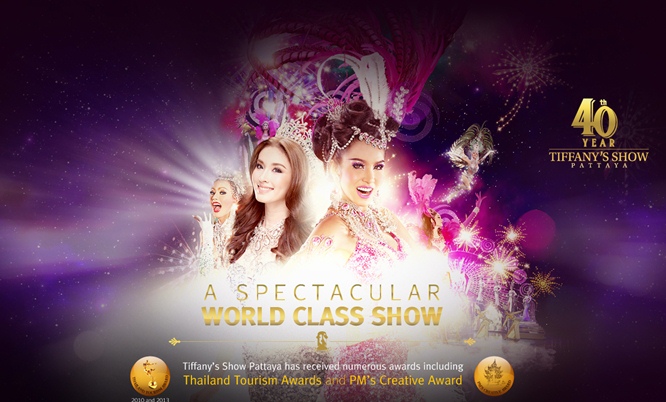 Thailand, although a conservative country, is very open-minded about transvestites and transgenders. In Thailand they are called 'ladyboys' (or 'katoey' in Thai) and are often well respected, even appearing in the public eye as celebrities. In fact, there are quite a few famous Thai ladyboy actors, TV talk show hosts and commentators.
Some have gone 'all the way' and had the operation to become a  fully fledged women. Others have had boob jobs to become half man half woman, and others have had no operations at all, they just dress like women with full make-up and long sleek hair.
The most famous place to see ladyboys though is the Tiffany's Show in Pattaya. Tiffany's was the first ever transvestite cabaret show to start up in all of South East Asia, and has currently been running for more than 30 years.
What's surprising though, and I think quite lovely is the Tiffany's Show is often seen as a family show in Thailand. In fact, when I was teaching Thai teenagers, I was amazed at how many of them had been taken to the Tiffany's Show by their parents or family friends.
The Tiffany's Show is also touted as one of Thailand's most popular tourist attractions and many tour companies run trips to Pattaya just to see it.
What is the Tiffany's Show?
The Tiffany's Show started out as a small idea with only three performers. Over the years, it has blossomed until it is now an extravagant cabaret show with more than 100 girls. And yes, transexuals they might be but girls they most definitely are.
That's because, if you see any of these ladyboys up close, you would never guess they were at one time men. They are all slender, with perfect hair, long manicured nails, white bleached skin, arching eyebrows, aquiline noses and long legs.
They wear the latest in Thai fashion off the stage, and on stage are gowned in elaborate show girl costumes of sequins, silk, lace and diamonds, with feathered head pieces and dripping with long diamante earrings.
They speak with high voices, have girlish laughs and affected female airs. Many of them, if you saw them in public, you would think they were wealthy Thai women and many a Western man has been caught unawares thinking his beloved was all woman, when in fact she was mostly man.
When to see the Tiffany's Show
Every night Tiffany's has three shows (four shows at high season), and with seating for more than 2,000 people. The shows are in the Tiffany's theatre, which is housed in an enormous, white building that looks more like a palace than a theatre.
The show is usually in four parts and begins with a musical number about the ancient history of Thailand (Siam). The second part is based on an ancient Chinese story and has the girls dressed in elaborate Chinese costumes and singing Chinese songs. Girls For All Seasons is a musical sequence based on the Hollywood movie "Funny Girl" and the last sequence "It's Too Damned Hot" is a jazz dance and song number.
All parts of the Tiffany's Show are tastefully done, which is probably why it's so popular with Thai families and tourists. You actually begin to feel you're in a theater watching Thai women perform an elaborate musical it is that well done.
After the show, some of the girls will even come out into the foyer where you can meet them, have photographs taken with them and get autographs.
The Miss Tiffany's Universe competition
In the last few years, Tiffany's has also branched out and now sponsors the "Miss Tiffany's Universe" competition. This is an international transsexual/transgender beauty competition that is broadcast live on Thai TV.
Ladyboys from all over Thailand, and internationally, compete for the honor to be Miss Tiffany's Universe and the winner is sent to the "Miss Queen of the Universe" beauty competition in the USA. This is also a family affair and is watched by much of Thailand.
So if you are ever in Pattaya, don't forget to buy tickets for the Tiffany's Show. The first show begins at 6pm and the last one at 9pm (10:30pm at high tourist season). You can pick up tickets from the show's website.