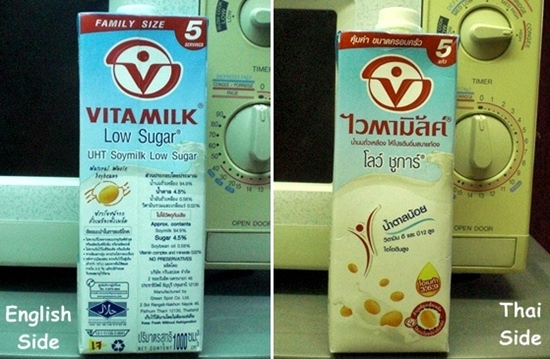 Another quick tip for those looking for great tasting soy milk in Thailand that is also produced from non-GMO soybeans — Vitamilk Low-Sugar Soy Milk. It's the soy milk I choose if I just want to drink soy milk (ie: not add it to coffee) as it's low in sugar yet tastes incredibly delicious.
Vitamilk Low-Sugar Soy Milk is composed of nothing more than Soymilk (94.9 percent), sugar (4.5 percent), soybean oil (0.58 percent) and vitamin complex and minerals — Vitamin A, B1, B2, B12, E, D, Iodine, and Biotin (0.02 percent). It also has no preservatives. Green Spot, the Thai company that makes Vitamilk, also uses non-GMO soybeans for all their soybean products, which is another big reason I buy it.
What I love even more about Vitamilk Low-Sugar Soy Milk is, unlike a lot of Thai soy milks, Green Spot prints the product information on the packaging in both English and Thai. That means, if I have any questions about the milk, I don't have to wander around the supermarket to find a Thai employee who can answer them (I speak Thai, I just don't read it very well) — it's all there already on the packaging.
The other great thing about Vitamilk Low-Sugar Soy Milk is it's thicker than many other soy milks in Thailand, which tend to be quite watery. So, if you're used to drinking cow's milk like I was before, you'll notice Vitamilk feels quite similar.
And, as for the low-sugar quality of Vitamilk, just take a mouthful of an average Thai soy milk and then a mouthful of Vitamilk Low-Sugar Soy Milk. The cloyingly sweet taste is apparent in the first beverage, but you can hardly taste the sugar in Vitamilk. As someone who is trying to make the healthiest choices possible, I love that.