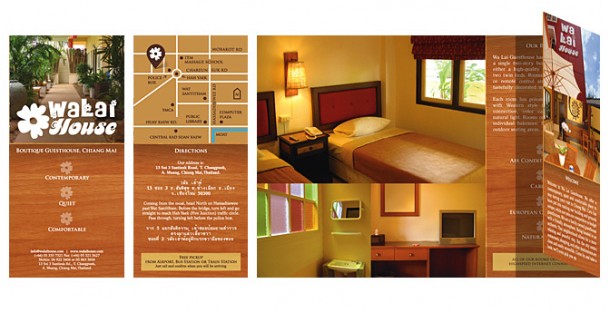 There are so many excellent cheap guesthouses in Chiang Mai, Thailand but some stand out more than others. Wa Lai Boutique Guesthouse is one of them. With a reputation for having friendly staff, comfortable and clean rooms, and lots of cool amenities, it's no wonder so many people stay at Wa Lai Boutique Guesthouse on a visit to Chiang Mai.
In fact, if you're looking for an affordable place to stay on either a short or long visit to Chiang Mai, you can't go wrong with Wa Lai Boutique Guesthouse.
Guest rooms are lovely, comfortable and clean and come with either a full-size single bed, or two single beds — perfect if you're traveling with a friend. Rooms also have cable TV, DVD players, free internet, and private balconies. Now, when you get all this for only 300 baht a night ($9.99) for a room with a fan, or 450 baht ($14.95) for a double or twin room with air conditioning, you'll think you've died and gone to heaven.
You can also rent a motorbike or a bike here, there's a cute little restaurant where the breakfast is delicious and, if you want to stay in and relax one night, they also have free rentals of DVDs and books.
For a cheap, comfortable and superbly friendly guesthouse, give Wa Lai Boutique Guesthouse in Chiang Mai a chance. They'll even pick you up at the airport.
Oh, and by the way, they love kids, so the whole family is welcome!!!
For more information, check out their lovely website.