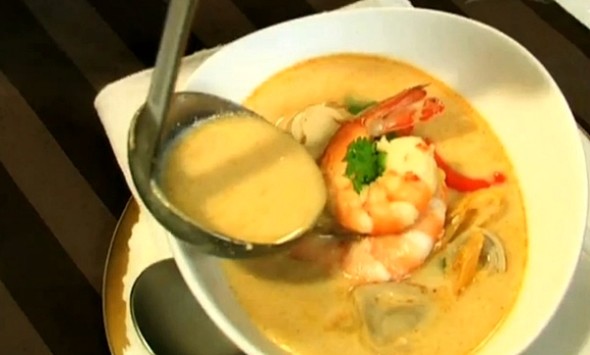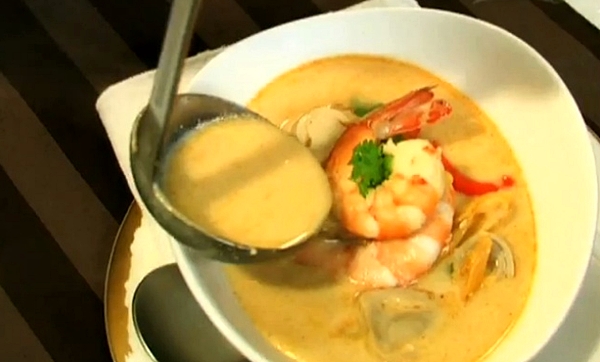 Looking for a good restaurant around Khao San Road that's a bit more upscale than the typical food stalls? Look no further than Tom Yum Kung, probably the most famous restaurant in the Khao San Road area.  Tom Yum Kung serves traditional Thai cuisine, which is amazing, but it's the restaurant's atmosphere and design that's even more fabulous.
Set in a converted Thai house, with both indoor and patio seating, if you want to feel like you're in Thailand 40 years ago, this is the place for you. But, don't be fooled by its traditional (but very cool and stylish) feel. Tom Yum Kung is thoroughly modern. At night too, when all the lights go on and you see the house in all its old-time glory, Tom Yum Kung is THE place to eat, if you want to feel fashionable and fabulous.
Don't miss their signature dish – tom yum kung (tom yam geung). their spicy seafood salad or the crab stuffed with papaya salad. In fact, don't miss any of their seafood dishes – they're soooooo fresh and tasty. Prices run around 80 to 150 baht on average for most dishes on the menu, but portions are quite large.
You'll find Tom Yum Kung at 9 Trokmayom, Jakapong Rd, Phranakorn, Bangkok – just around the corner from Khao San Road.
They open at 12pm, in time for lunch, and serve right up until after midnight. Prices are inexpensive too.