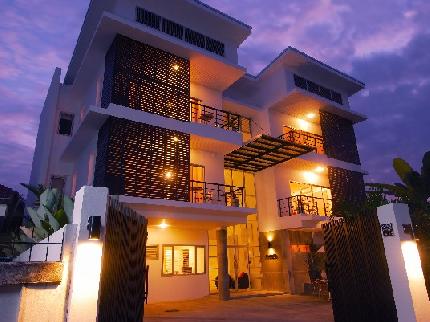 If you like self-catering and love to stay in holiday apartments rather than hotels, then renting a studio apartment for a holiday in Chiang Mai, Thailand  is the best way to go, and these are three of the best.
Studio 99 is an absolutely beautiful and thoroughly modern apartment building located near Tha Phae Gate and just a few minutes walk from Chiang Mai's massive NIght Market. Surrounded by restaurants, cafes, shops and tourist attractions, you couldn't find a better location for a vacation apartment than this.
Each studio apartment features an ensuite bath with large shower, fully-equipped kitchen including a kettle and microwave, TV with DVD player and satellite, private balcony, air conditioning, a small room safe and free Wi-Fi internet. Every room is stunningly decorated in a modern style and looks somewhat like you're stepping into a photo shoot for 'House Beautiful'.
The apartment building has a travel agency, which is perfect if you want to take day trips or book flights, and if you decide to rent a motorbike to get around (many tourists do!), you can park it here for free.
Holiday rental rates begin at 2,000 baht per day ($66), for a studio that sleeps two people or, if you want to stay in Chiang Mai on vacation longer, the monthly rate is only 34,000 baht ($1,130 – which works out at only just over $37 a night).
You'll find Studio 99 at 48 Soi 3 Thapae Road, Chang Klan in Chiang Mai.
Loft Residence – For an even more inexpensive holiday apartment option, Loft Residence has 50 small studio apartments, all furnished in a modern design. While rooms are a little more basic than Studio 99, they're clean and well taken care of and, if you're simply looking for an inexpensive but comfortable studio apartment in a great neighborhood for your vacation, Loft Residence is wonderful.
Each room features an en suite bath, TV with satellite, Wi-Fi internet for a small additional charge, a sitting area, dining table and a mini refrigerator. The building itself has a convenience store, a laundry, and a parking lot with free parking if you arrive by car.
Rates at Loft Residence are extremely inexpensive. For the 28 sqm studio, room rates begin at are only 450 baht ($ 15.25) per day, and for the 50 sqm studios 750 baht ($25) a day. You can also get lower rates if you stay for a month or longer.
Loft Residence is at Hussadhisawee Road, Chang Phuak Muang in Chiang Mai.
PT Apartments – PT Apartments is a large apartment building on Nimmanhhemin Road, the trendiest road in Chiang Mai. They have a mix of residential apartments and short-term or vacation studio apartments which, for this upscale area, are incredibly cheap.
Each studio apartment has an en suite bath, a small living area, a fully-equipped kitchenette, and satellite TV. There's a gym in the building, a laundromat and a pick-up laundry service if you prefer not to wash your own clothing while you're on your vacation.
PT Apartments is surrounded by some of Chiang Mai's best restaurants, cafes, boutiques and art galleries. If you stay for your holiday in this neighborhood, there's so much going on you wouldn't even have to leave. But, of course, tuk-tuks and songtaews (red pick up vans) can take you anywhere in the city within 10-15 minutes for just a few baht.
Studio apartment holiday rates are as cheap as 6,000 baht ($200) for a month for the small studio apartments and 7,500 baht ($250) for the larger rooms.
PT Apartments is at 8/10 Nimmanhemin Road, Soi 2, Tambon Suthep, in Chiang Mai.
How to Book –