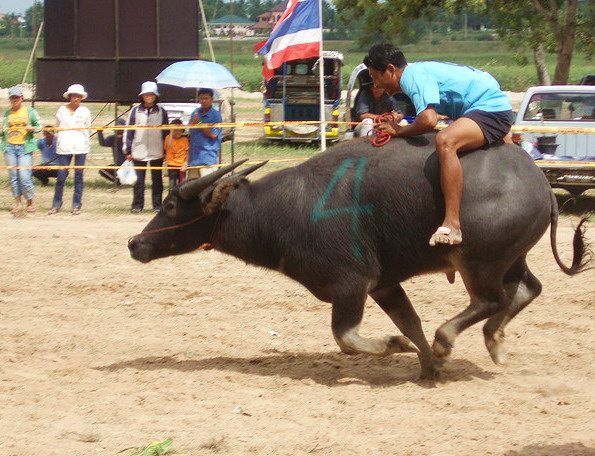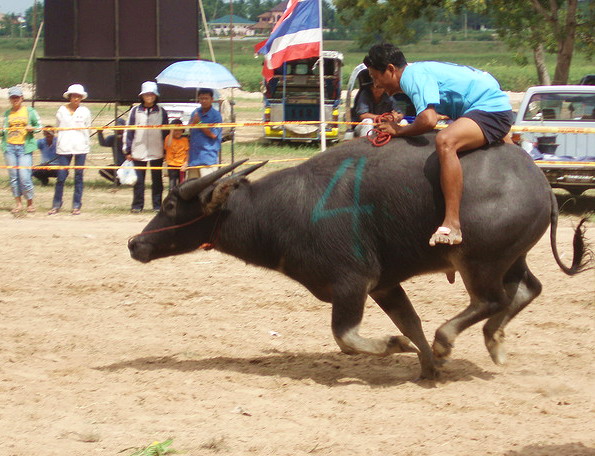 If you've been dying to see a Buffalo Race, look no further than Chonburi, Thailand, home of the annual Buffalo Race. Held on the front lawn outside the Chonburi District Office, the race pits behemoth against behemoth (big sweating buffalo against big sweating buffalo, to you and me), in a mad race to the finish.
Not only buffalo racing is held here though. In typical Thai style, there's a Buffalo Festival too. You'll find tons of stalls loaded with traditional Thai food, a wagon parade, Thai boxing, greased pole climbing and, of course, competitions for the buffalo 'Biggest Buffalo', 'Prettiest Buffalo' etc. Races are held in various categories based on the size of the buffalo and the jockey.
If you're looking for something off the tourist track and absolutely traditionally Thai, you shouldn't miss Chonburi's Buffalo Races.
Held on October 11th, 2011, this one is the 140th Annual Race – what an amazing amount of history that is, eh?
For more information on the Fuffalo festival, please contact the Chon-Buri Municipal Officer on, 038-287-035 or check out the Tourism Authority of Thailand's website.