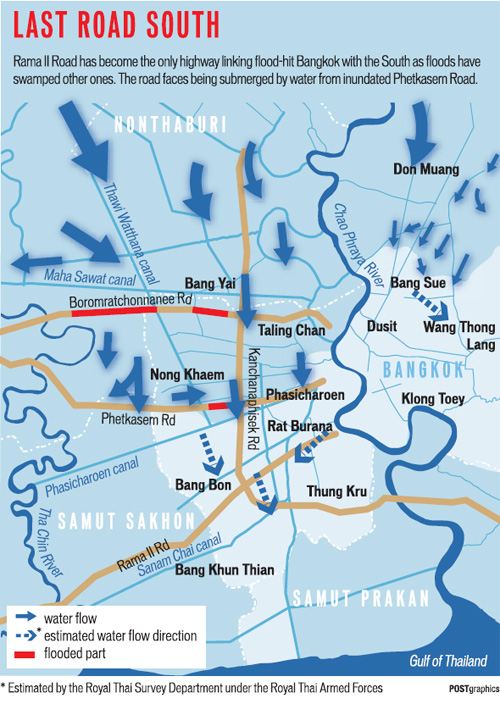 As the Thai government continues to struggle to prevent more of inner Bangkok from flooding, the Bangkok Post is reporting Rama 2 Road is beginning to flood.
Water is flowing into parts of Rama 2 Road in Thonburi, one of the areas of Bangkok the most affected by floods. Rama 2 Road is one of the main roads that lead from Bangkok to the south of Thailand, and the only road still easily passable.
If flooding continues, as it is expected to, authorities fear it will soon be difficult if not impossible to access any of the south of Thailand by road.
Meanwhile, flooding continues to worsen in other areas of Bangkok.
The Pahonyothin-Ladprao-Vivhavadi area is now almost one meter under water, with flood waters from here continuing their increase and flooding Chatuchak and the Aw Taw Kaw farmer's market.
If not able to be controlled, it is expected this water will spill over into the Saphan Kwai area of Bangkok in the next 24-48 hours and then on down to Victory Monument.
One Thai water expert has already said he believes Victory Monument will be inundated with flood water in the next six days.