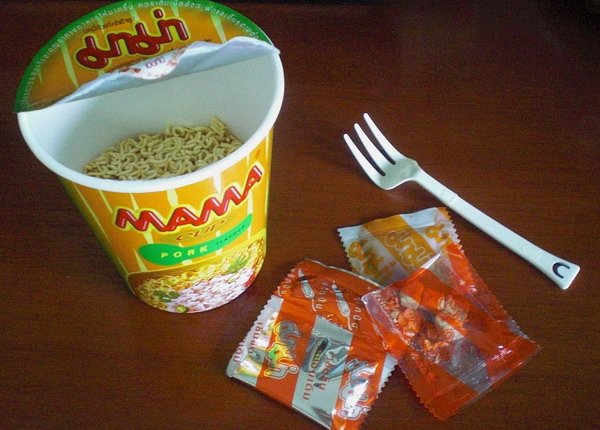 Like just about everyone in Thailand, I'm a Mama noodles fan. Mama is the most famous brand of instant noodles in Thailand, with millions of packets of them being consumed weekly. They're cheap, they're filling, they come in many flavors, and they taste great. It's no wonder so many people buy them.
When you go to any supermarket in Thailand, you'll soon find the Noodle Aisle. Stacked with various brands of instant dried noodles from one end to the other, and even more flavors, there's a packet of noodles for everyone. Plus, if you don't want Thai noodles, no problem. They have Korean and Japanese too. As for Mama noodles, pick up a couple of packets or some noodles in a paper cup or, if you really love Mama, you can buy a whole mega-pack of 12 packets of noodles – they're even cheaper that way.
Making Mama noodles is even easier than buying them. If you buy the packets, simply open it, dump the dried noodles into a bowl, add the contents of the small packets of spices and oils that come with the noodles, pour hot water over the lot, mix and leave to sit for five minutes. Then eat. Simple. And delicious. (Thais will also usually add chili pepper, fish sauce and sugar, but you don't have to).
If you buy the paper cups of noodles, they're a bit more expensive, but have the added bonus of coming with a fold-up plastic fork, some dehydrated meat, and you don't have to do any washing up when you're done. Just throw the cup away.
My favorite flavours of Mama noodles are the Wai Wai Chicken flavor, Tom Yum, and the Minced Pork ones.
If you want to buy Thai Mama noodles, while in Thailand (and they're a great food either to add water too, or just to eat dry like potato chips), you'll find them at every supermarket, convenience store and 7-11. At 7-11, you can even add hot water right there and eat them on the spot.
A packet of Mama noodles is 6 baht (about 20 cents). A paper cup of noodles (there are more noodles, more spices and dried meat in these) are 10-12 baht (33-37 cents), and a pack of 12 packets of Mama noodles runs around 55 baht — although you'll often find them even cheaper on sale.
Mama has an excellent website with all their flavors listed. But, be warned, their products are for sale in the US, so far more expensive than Thailand. So hold off, and get them in the land of smiles instead.
Of course, being nothing but carbohydrates and fat, Mama noodles aren't exactly healthy. But, once in a while, they won't kill you, and they really are delicious.
Here's one of Thailand's old TV commercials for Mama. Yum!