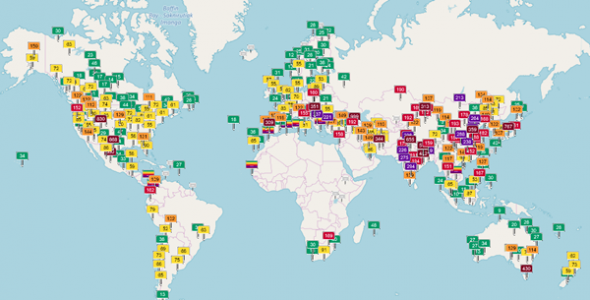 Checking current Bangkok air pollution levels is quite easy
It has been a couple of weeks since Bangkok air pollution worsened to such an extent the Thai government began asking people to take public transportation instead of driving, as well as recommending they wear air masks if outside for a long period of time.
According to Deputy Prime Minister Prawit Wongsuwon today, however, the air quality in Bangkok has improved. So much so, the government has stopped considering closing the city's schools due to the polluted air.
If, like most Bangkokians, you are interested in what current Bangkok air pollution levels are, however, how are you supposed to find out?
Thankfully, there is a very easy way.
Just head to the website of the World Air Quality Index Project, a non-profit project begun in Beijing, China in 2007.
The project monitors real-time air quality in more than 80 countries, and more than 1,000 major cities, including Bangkok. The data they use is taken from monitoring stations in cities located all over the globe.
There you will find an overall view of the world and its current air quality — and of Bangkok air pollution levels at the current time. You will also find an air quality forecast for the city for the next six days, including wind speed and wind direction.
As you will see below from a screenshot taken of current Bangkok air pollution levels at 11pm on Sunday, January 13, 2019, and the one below that taken just a few minutes ago at 1pm on Thursday, January 17, 2019, Deputy Prime Minister Prawit Wongsuwon is correct with his assessment.
As he said, current Bangkok air pollution levels have dropped in the last few days, with less PM 2.5 particles in the air today than on Sunday.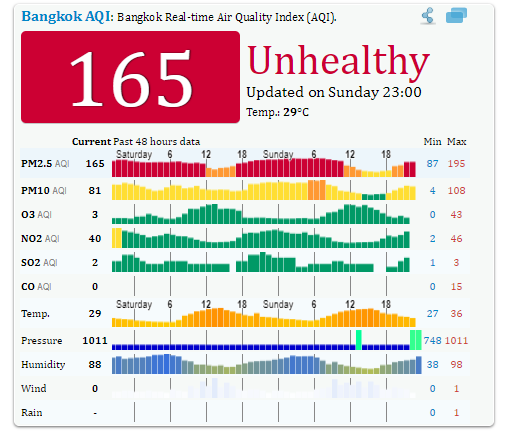 You can also find out what the reds, greens, blues and yellows of the Air Quality Index mean in terms of health implications if you scroll down to the bottom of this webpage.
Related: — Will wearing an air mask in Bangkok help with pollution and, if so, which masks are better than others?