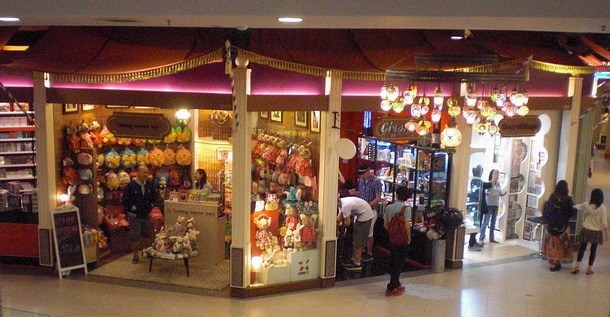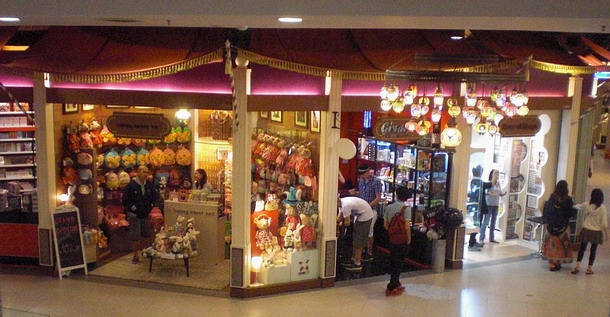 While buying fashion accessories in the US or Europe is expensive, in Bangkok, Thailand they're not. Fashion accessories are cheap and the cost of living is too. So, even after all the bills are paid, there's lot sof money left over.  I usually buy one fashion accessory every day (sometimes more) and, on the weekends, I go crazy. Fashion accessories are everywhere in Thailand, in shops, at markets, on street stalls, even on blankets laid on the ground by passing salespeople and they're all cute! If you come to Bangkok, Thailand and you too want to be fashionable, look for these fashion accessories. You won't be disappointed.
Handbags and Purses – Handbags, as we British say, purses for the Americans, they are everywhere in Thailand. I'm an absolute handbag freak, so Thailand is bag heaven for me.
Hundreds of thousands of purses in Thailand run from 100 to 299 baht ($2.85 to $8.50). There's a market stall near my apartment that sells hundreds of bags for 250 baht $7.10, and I buy at least one bag from him every week. Yellow, green, black, brown, large, small bags, medium bags, clutch bags, shoulder bags, shopping bags, thin straps, fat straps – I have them all. And I love every one of them.
So, if you're in Bangkok, Thailand any time soon, don't forget to buy a bag – they're Thailand's favorite fashion accessory and they're lovely.
Shoes – Thai girls are obsessed with shoes. Shoes are on every street corner in Thailand and are cheap. I normally pay 199 baht ($6.50) for a pair of strappy sandals (Thai girls love high-heeled sandals), so I have many pairs. Black mules, yellow high-heeled sandals, green slip-ons with sparkly diamante accents, flat silk flip flops, they're all in my wardrobe.
Being cheap, they don't last too long but who cares? At $6.50, I buy a couple of pairs a week. These fashion accessories really are affordable.
Belts – Belts are a staple of every Thai girls fashion wardrobe. Right now, a shirt, a cute skirt and a belt are office attire for most Thai office girls. Belts can be bought at shopping malls (about $6 for beautiful leather belts) or on market stalls or street stalls for as little as $1.
Recently, I bought a lovely black leather woven belt – thick, and perfect for my usual office clothes. At only $2.70, it was a great buy, so really, I couldn't resist. Belts are a fabulous fashion accessory because they make every outfit just a little bit more 'put together'.
Earrings and Jewelry – I was never a huge jewelry fan before I came to Thailand. Here though, it's so pretty and shiny and everywhere, I find myself buying several pieces a week.
I usually buy silver earrings at a market stall at Chatuchak Market (only $6for solid silver, with lovely modern designs and set with semi-precious stones). Bracelets and necklaces, I buy anywhere.
My latest bracelet is made of silver wire with large pink flowers made of metal swirling all around it. It opens and closes with a small snap and is so beautiful I could hardly resist. At $1.75, it's been one of my best buys in the last few months. Jewelry in Thailand is a wonderful and easily affordable fashion accessory, so why not endulge?
Shawls and Scarves – Thailand is known for its shawls and scarves. Many are made of Thai silk (the best silk in the world), others are made of cashmere, cotton, or wool. Shawls and scarves can be bought at most clothing stores, at every market and on hundreds of thousands of street stalls all over Bangkok and Thailand.
I currently own 22 shawls and 27 scarves, all in bright, vibrant colors. Silk scarves are as cheap as $2 and shawls as inexpensive as $3. A local market stall near my friend's workplace sells one shawl for $3 and three shawls for $7.50. Needless to say, I buy at least three from her every month. You've just got to have a shawl to match every outfit, especially in Thailand where it's boiling hot outside and like a meat locker inside. (Why don't they turn down the air conditioning?)
Fashion accessories in Thailand are cheap and readily available. T shirts, shorts, shirts, skirts, dresses, bags, shawls, scarves, jewelry, bags, belts, shoes – all these fashion accessories are beautifully designed, the height of fashion, and look so cute on pretty much anyone. The next time you come to Bangkok, Thailand, make sure you leave room in your suitcase for these fashion accessories. You'll kick yourself when you get home if you don't.
Photo copyright – Bangkok fashion by Harry Ng, Creative Commons