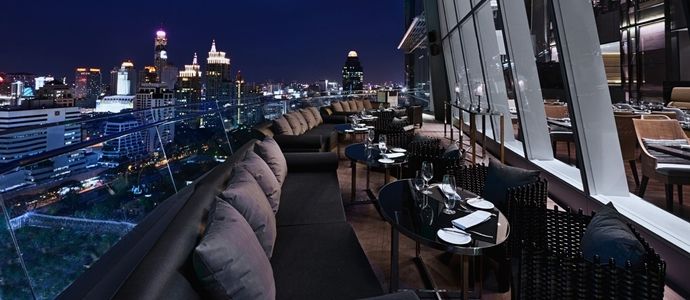 What can you expect at the Okura Prestige Bangkok?
If you are looking for a five-star hotel in Bangkok, one of the newest offerings in the city is the stunningly stylish and elegant Okura Prestige Bangkok. Not only does this luxury hotel take its Japanese parent company Okura Hotel and Resorts' way of doing business — "Best ACS" (Best Accommodation, Best Cuisine, Best Service) — exceptionally seriously, it is also one of the most beautiful luxury hotels in the city.
In fact, it offers such delights with its Japanese aesthetic and 'Simplicity and Elegance' philosophy and perfect service from the loveliest staff, the Okura Prestige Bangkok is currently the most-searched for luxury hotel in the city on Google.
So, if you are interested in staying at the Okura Prestige, what can you expect?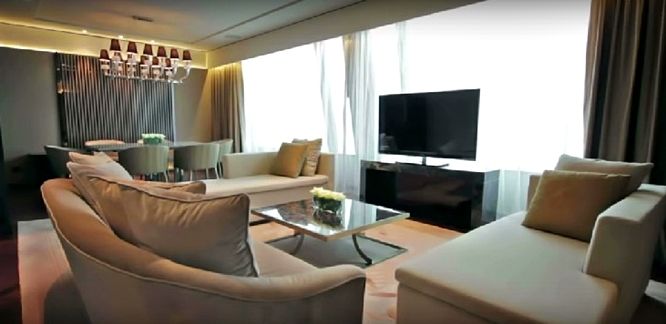 Luxury accommodation
Every one of the 24o rooms at this Bangkok luxury hotel feel more like apartments than they do hotel rooms.
Each room is spacious with large comfortable beds, divans, a fully stocked minibar, complimentary tea and coffee, bathrobes, slippers and a large flat-screen Internet TV. Windows are triple-glazed giving you one of the quietest hotel experiences in Bangkok. Bathrooms are large, stylish and separate and include a hair dryer and complimentary toiletries.
Each room also has both air-conditioning and lighting that can be controlled right from the bedside.
All rooms are above the 26th floor, as the hotel lobby is on the 24th floor, so the views out over Bangkok are incredible.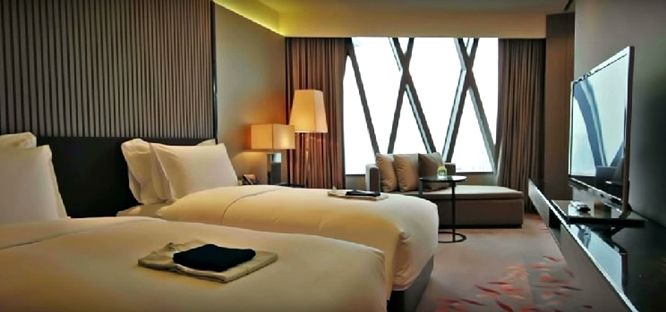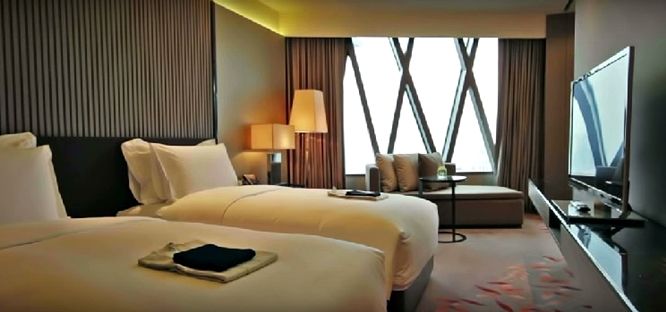 Luxury amenities
The Okura Prestige Bangkok has everything from an infinity pool on the 25th floor that is actually suspended from the side of the building, down to the state-of-the-art fitness center, which is also located next to the pool.
The hotel also offers a full-service spa and wellness center, a sauna, a laundry and ironing service, baby-sitting services, free Wi-Fi throughout and VIP room facilities.
Dining at the Okura Prestige Bangkok
When people wonder what you can expect at the Okura Prestige Bangkok, dining there is one of the first things that probably springs to mind. If so, you will not be disappointed.
The Okura Prestige breakfast is one of the best you will find in any luxury hotel in Bangkok.
It is included if you book a room with some hotel booking companies, and not included with others. If not included, it currently costs 1,000 baht, or around $30, but it is well worth the money with many Western, Thai and Japanese options and includes juices and herbal drinks, as well as some of the best coffee in Bangkok. It also includes vegan, vegetarian and gluten-free choices.
Related: Top 5 five-star luxury hotels in Bangkok, Thailand
Do also dine at Yamazato, an authentic Japanese restaurant serving sushi, grilled food and exceptional multi-course dinners, and with its sashimi flow in directly from Japan several times a week.
Or, if you like Arabic food, then Up&Above Restaurant is sure to please.
The Okura Prestige Bangkok also offers a gorgeous Japanese style afternoon tea that is worth ordering as much for how beautiful it is as well as for the delicious mochi cakes and other lovely desserts that come with it.
And, if you are not in the mood for any of these, there are other restaurants not affiliated with the Okura Prestige but in the same building.
Superb location
You do not get a much better hotel location in Bangkok than the Okura Prestige, as it is located right next to the BTS Ploenchit sky train station with direct access from the hotel, and the luxury mall Central Embassy can also be reached by a covered skywalk.
It is also close to Bangkok's main shopping areas and just a few stops away on the sky train to the Central Business District.
Room rates
As for room rates at the Okura Prestige Bangkok, for all of its luxury, comfort and superb service, this is one of the more affordable five-star hotels in the city with Deluxe rooms starting a only $225 a night. Far less than many of the city's other luxury hotels.
You can check room rates here, and do check back often as prices change daily and special offers are frequent.
You will find the Okura Prestige Bangkok at 57 Wireless Road, Lumpini, Pathumwan, Pathumwan, 10330 Bangkok.