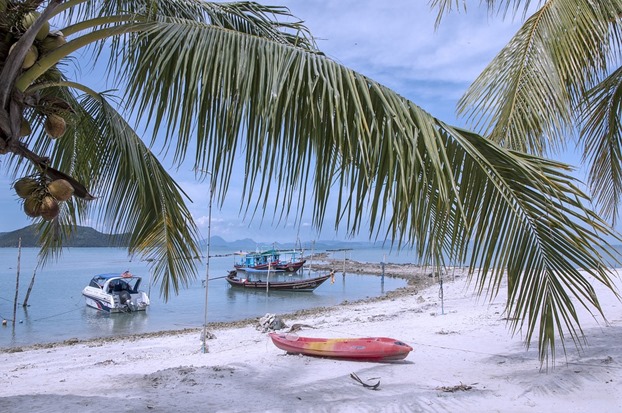 With Ko Samui tentatively being one of the second places after Phuket that will open to foreign tourists in July, some tourists who may want to travel to the Thai island in the next few months are wondering what they can expect upon arrival.
Arrivals on Ko Samui, which will be under a 'sealed route' called the Samui Plus (Surat Thani) sealed route, will initially have stricter rules to follow than those who are allowed to travel to Phuket from July 1st, although these may ease over time.
Arrivals on Ko Samui have also not yet been officially approved, but are tentatively set to go into effect from July 15th subject to Cabinet approval and subsequent publication in the Royal Gazette.
According to the Tourism Authority of Thailand (TAT), this is currently what you can expect on arrival on Ko Samui from July, 2021 and onwards.
Arrival
Undergo Immigration and Customs procedures, and a COVID-19 screening, including RT-PCR tests;
Download and install the alert tracking application;
Go directly to your reserved hotel to await the test results;

Arrivals to Ko Samui must check-in at alternative local quarantine (ALQ) facilities;

If tested negative for COVID-19, travellers to Ko Samui can leave their room for facilities and services within their accommodation only.
Stay
For travellers to Ko Samui:

During the 1st-3rd nights, travellers can leave their room for facilities and services within their accommodation only.

During the 4th-7th nights, travellers can travel on specified routes within Ko Samui only.

During the 8th-14th nights, travellers can travel between Ko Samui, Ko Phangan and Ko Tao.

Undergo a COVID-19 test using an RT-PCR method per the MoPH's guidelines;
Travellers are advised to strictly follow the DMHTTA precautions to prevent the spread of COVID-19: D – Distancing, M – Mask wearing, H – Handwashing, T – Temperature check, T – Testing for COVID-19, and A – alert tracking application.
If you want to leave Ko Samui, Ko Phangan and Ko Tao and travel elsewhere in Thailand, you will not be allowed to do so for 14 days.
Once this time period has ended, the domestic departure rules then apply. They are:
For travelling from Ko Samui to other Thai destinations, travellers are required to show proof that they have completed a 14-night stay along with the other required documents per the guidelines and measures announced by the respective province of destination.
Other provinces may have additional/different measures than Ko Samui, which is why we recommend keeping up-to-date on these measures as they may/will also change in the future.
As we always note with any current guidelines, they can also be changed by Thai authorities province-specific or country-wide in any 24-hour period.
Keeping abreast of Thai news and checking with the Thai embassy in your country before booking any trip, therefore, is highly recommended.